We recently asked you to share your amazing sitter stories, and to let us know a time you went above and beyond and did something really special for a pet owner. Diane and David got in touch with a wonderfully heartwarming story about a 5-week pet sit they did for Beverly (and her three Great Pyrenees) in Washington. Here's their story…
"Beverly was somewhat new to Trusted Housesitters at the time we sat for her three Great Pyrenees. She had only had one sitter before us and he called her within 24 hours of her leaving on her trip to say she had to come back home, as it wasn't going to work out. She almost didn't want us to sit for her because she was very apprehensive about the whole pet sitting idea, but I told her we wanted to still come show her exactly how wonderful the program really is, and can be for her too — she couldn't judge the whole program based on just one person whose heart wasn't really into it. We found that they were just large dogs who needed a large amount of love and attention.
"I need not try to put into words what we did for her because she really said it all in her review of us, actually even using your words of "above and beyond". Her review (word for word) is as follows:
"Where do I begin? Diane and David have been angels for our pry family of three, and for me, in so very many ways. There are not words adequate to describe the love and care they gave my pups while we were out of the country for 35 days, and for the extraordinary help they provided for my move that had to be accomplished in just nine days once we got home.
The pups first: my pups are on the large size, averaging 145 pounds each, but they are sensitive, sweet souls, and Diane and David recognized this right away, and responded with a level of love and care that was truly extraordinary (you're going to hear this word a lot in this review, because it really describes the level of care and commitment they bring to their pet sitting assignments). For example, my boy is a really picky eater, and Diane and David experimented with different foods to add to their kibble until they found exactly what he loves — poached eggs stirred in to coat every kibble. In addition to the eggs, I had a lot of fish in the freezer that had gotten old, and they asked if they could cook this for the pups, and I was more than happy to hear the pups would get to have a bit added to their food, and also that I wouldn't have to deal with it during my move. They also cooked and diced chicken for them, and made broth from the carcass that they poured on the kibbles for extra flavor as well.  When home with them, I cook for them too, but I was hesitant to ask someone else to go to the trouble of doing this, but they went above and beyond what I would cook for them! Then they brushed them regularly, and best of all, they are retired — not trying to work from home — so the pups got their undivided attention most of the time. he best part of them staying with the pups was the emails with pictures that they sent the whole time we were gone, so I could see just how well taken care of my pups were — it was awesome! When we arrived home, I could see just how attached my pups had gotten to Diane and David; indeed, it was hard for them to part with my sweet prys.
Now for the unbelievable part: When David and Diane found out I would have to move everything out in just nine days upon our return, they eagerly offered to help pack some of my knickknacks, kitchen items, etc — but when we got home, I found 62 boxes very carefully packed, labeled, and with pictures to let me know what was in every box — a miracle that made it possible to accomplish this move! Not only did it make the move a breeze, but unpacking everything happened in record time as well, because every single box was so well packed, organised, and labeled.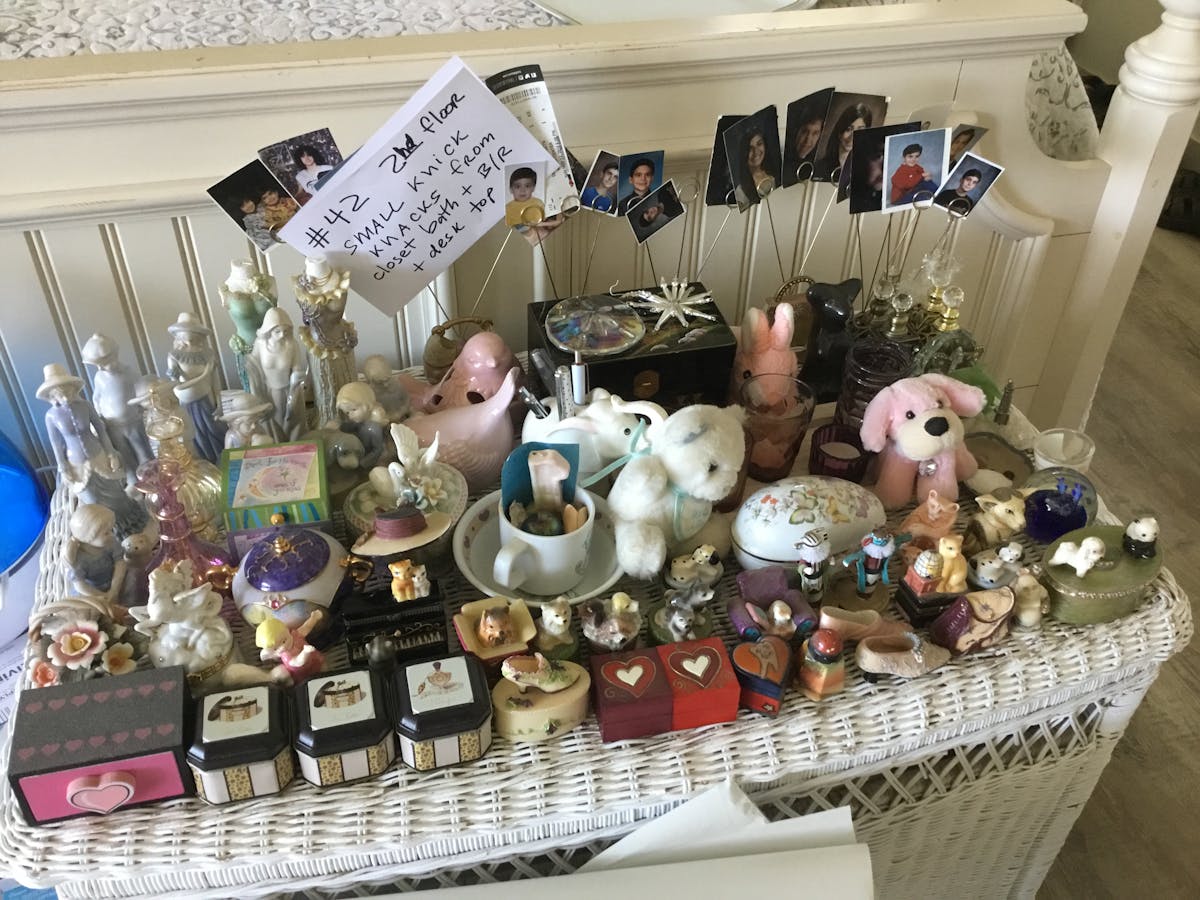 I will forever be grateful to them for the extraordinary care they gave to my beautiful prys, and for the miracle of their help in getting my entire household all packed up and ready to go. Words just cannot describe how grateful I am to Diane and David." 
"Below is a picture of David, my husband and co-sitting partner, with Smokey, Angel and Darla, our three "gentle giants" as we came to call them. After reading the above review you will understand what the other picture is all about. We displayed everything and took a picture before packing it in the corresponding numbered box so Beverly would know exactly what was where.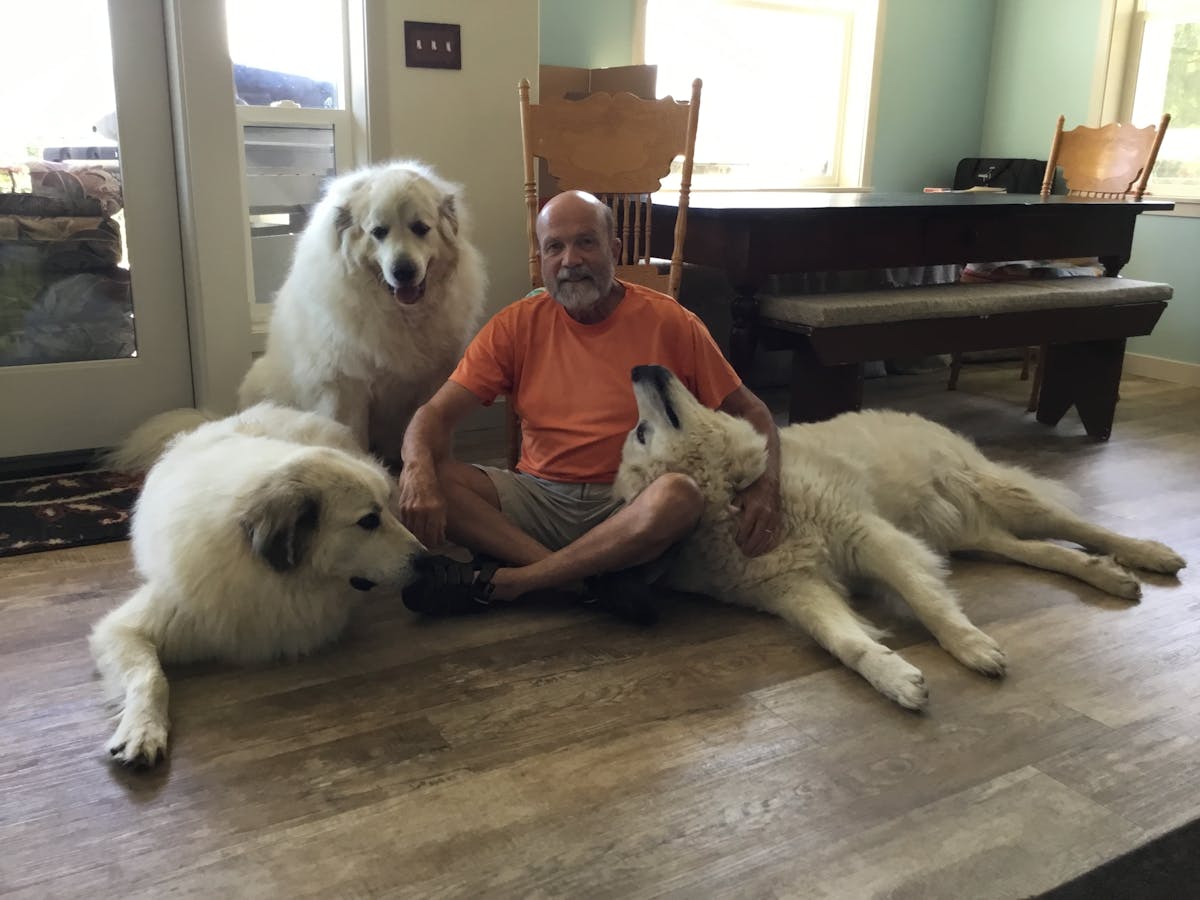 "We truly think back fondly to this pet sit and it's right up there with our favourite ones! While packing up her household we were able to enjoy the gorgeous view of The Bridge of Gods and the Columbia River Gorge. Truly a spectacular place."

We loved hearing how Diane and David went above and beyond for Beverly, and how they were able to restore her faith in reliable and caring pet sitters! Do you have a story you'd like to share about your own house and pet sitting experiences, or about fantastic sitters you've met? Let us know…