While it's always a special moment when TrustedHousesitters first connect with one another, for many members, it's their first sit experience that really stands out. Beginning as a way to explore new places while making wonderful memories with pets they'll never forget, many members go on to make longlasting friendships (both human and furry), while enabling a lifestyle they never thought possible.
Today, we're hearing from sitter members Julie and Jonathan, who began their Trusted journey back in 2018 looking after Txuri, the gentle giant who stole their hearts...
"Meet 9-year-old Pyrenean Mastiff, Txuri. She's a super-sized softie and she was our first ever house/pet sit that we applied for after joining TrustedHousesitters. We cared for her for five weeks in January 2018 in the charming coastal town of Aldeburgh, in Suffolk.   
The owner, Diana, was planning a special five-week 'trip of a lifetime' taking her family to Tanzania. Just like us, Diana was a 'newbie' to the TrustedHousesitters website, which kinda felt nice, both of us starting out together. After sending in our application to sit for her and her quick reply back to us, we then chatted on the phone for ages, we all seemed to 'jell' immediately."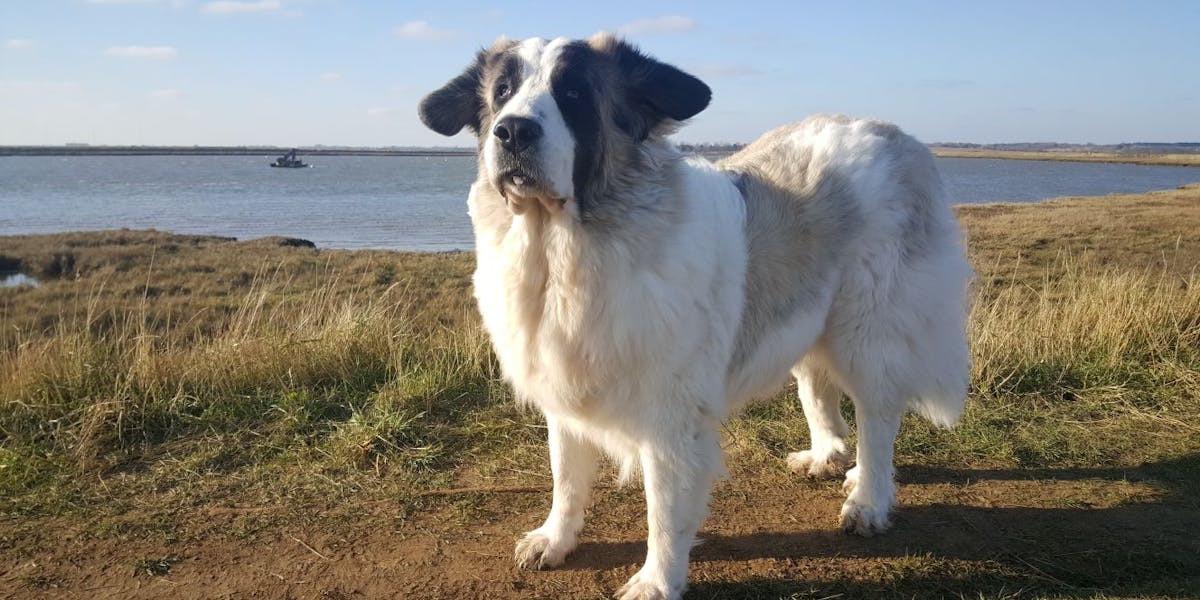 While Julie and Jonathan may have been strangers when they first connected with Diana, like all TrustedHousesitters members they did so knowing they already have one thing in common — a shared love of pets. And it turned out, that wasn't all!
"We discovered that we both had a great love of Spain. Diana had lived and worked there, still owning a property in Madrid and we had recently returned from living there ourselves, so we had lots to talk about.
We planned a date to visit Diana and Txuri, we only lived an hour away in nearby Norfolk. We were all super excited and couldn't wait to meet up."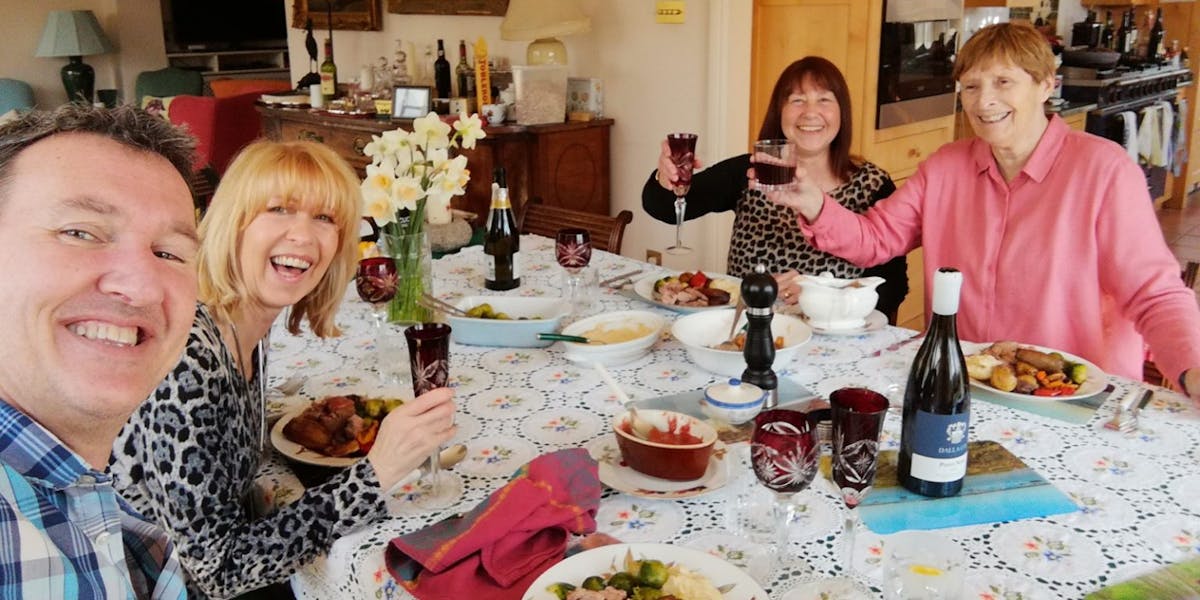 "Diana invited us over for a lunch, this was November 2017, to meet her and Txuri. Txuri instantly stole our hearts. Diana made us feel incredibly welcome and after chatting for only a short while and lots of cuddles with Txuri, Diana burst out with: "Can I just say now, I already love you two and want you to care for my precious hound and home, is that ok?"
It was really quite emotional and I have to say, both myself and Jonathan's eyes welled up a little. We chatted more for hours, hearing all about Txuri and her journey from North-Eastern Spain as a puppy. We absolutely knew we would fall in love with gentle giant Txuri. Diana said she had noticed Txuri leaning on us both and said that was her sign of giving comfort and affection."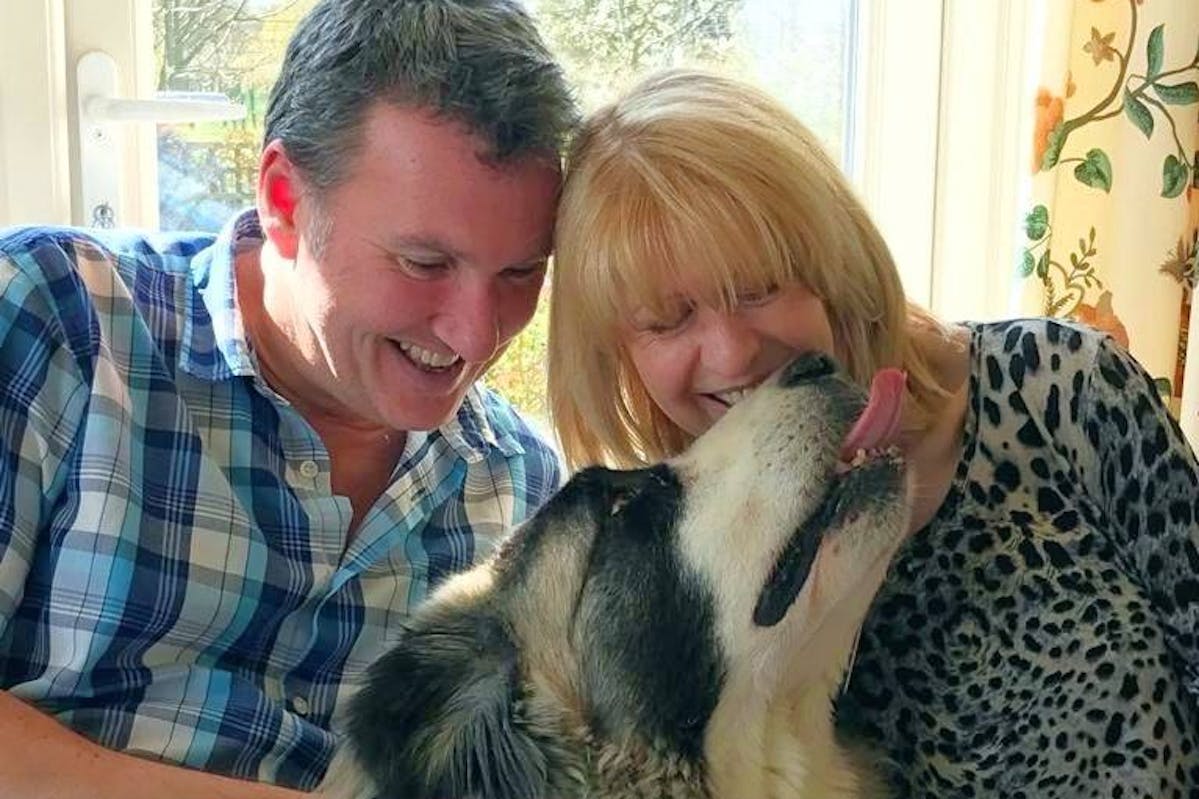 "Diana's house is beautiful and just a few steps from the seafront and Aldeburgh town centre. One of her passions is wildlife and her garden is a real haven for birds. Diana has an enormous bird book collection and told us which birds to look out for and their habits. Of the two large Garden Summer rooms, one houses every kind of bird feed imaginable and the other, well that is Diana's very own Gin Palace, haha!
So you are getting the picture of how lucky we were meeting this super interesting, generous and funny (oh yes, she had us laughing on the floor with her stories) lady, owning this most adorable beautiful doggo and she was happily going to entrust her precious Txuri and home to us."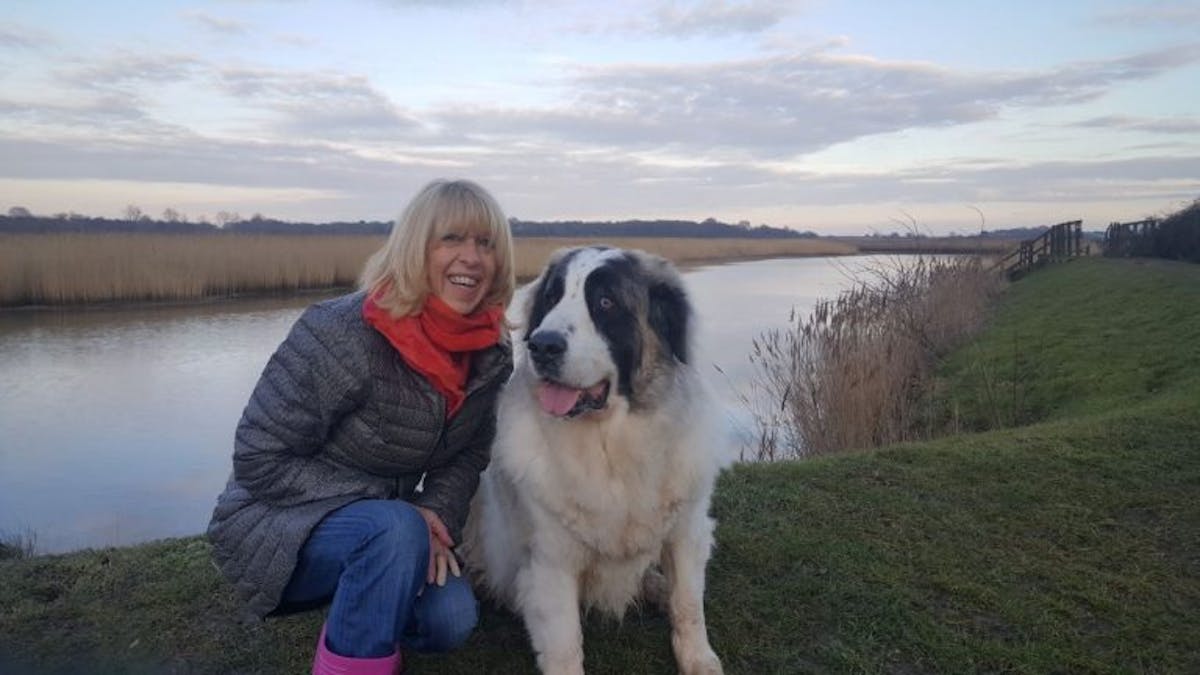 "We arrived the day before Diana's departure and after a cuppa and chats and lots of cuddles with Txuri, and a visit from one of Diana's best pals (our contact in Diana's absence), the lovely Ginny, we had a quick explore of the town and Diana genned us up on all the local knowledge. Everyone we met knew and loved Diana! 
We then all had a walk out with Txuri and Diana showed us the best pathways along the river banks and fields and Txuri's favourite routes. How wonderful that we would have so many pretty riverside walks direct from the doorstep, as well as the beach just opposite."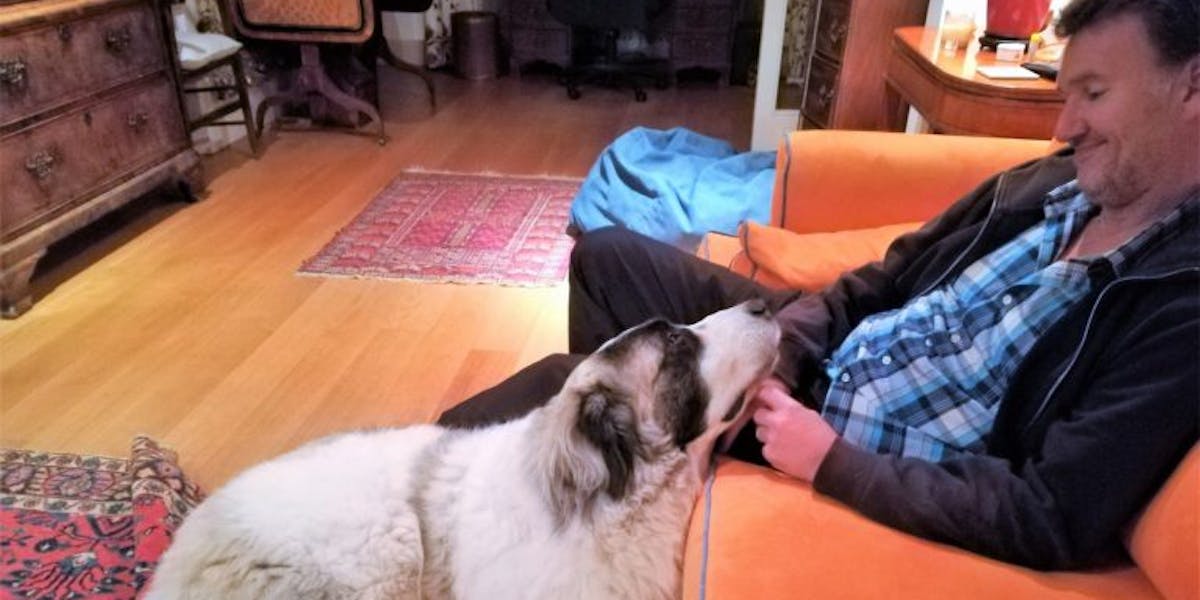 "We very quickly bonded with adorable Txuri. She became like our own. She has such a kind calm temperament and loves human affection and is as big as she is super happy cuddling up. Oh, and her grooming time, she loves that, the smile on her face told us it must be like such a pleasing massage for her, as well as removing excess fluff from her dense coat. She slept at the side of our bed from the very first night with her. In fact, Diana told us that for the first couple of nights on her return home, Txuri still slept in our bedroom and looked for us."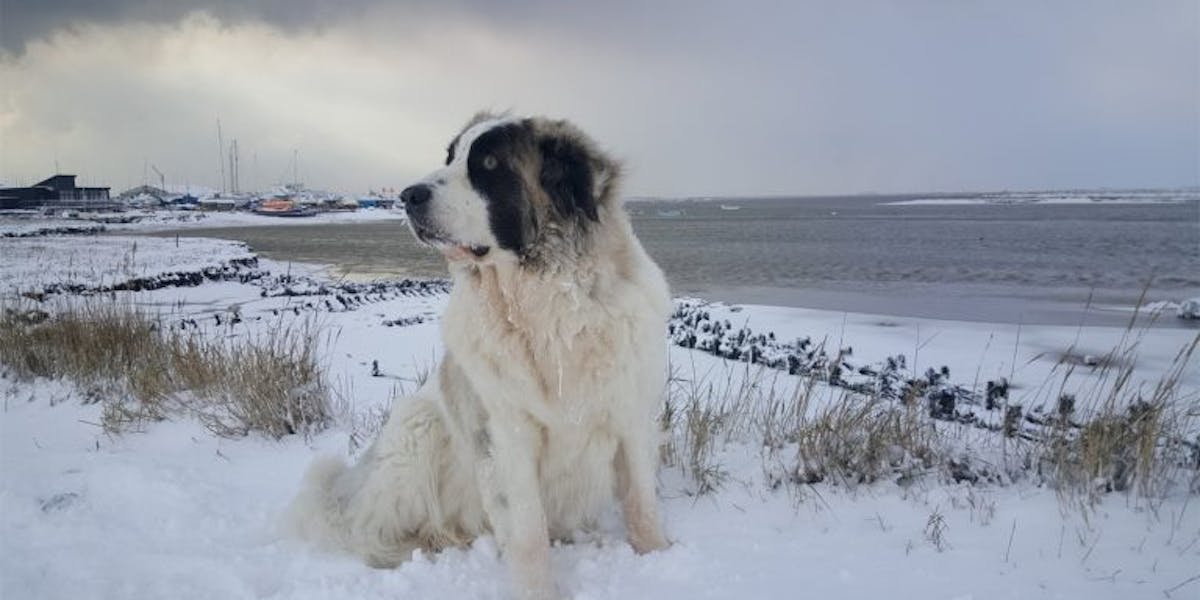 "Txuri loved a car journey and was a delight to take out. Diana left us loads of info on where to visit. One of our favourite walks with Txuri, just over the road from the house, was along the seafront to the sandy dunes of Thorpeness, with the reward of a cafe stop when we arrived. It was quite adorable watching Txuri enjoying the sea breeze on her face.
During our second week with Txuri, a cold February week, we had heavy snowfall. With all our warm gear and wellies on we made the most of being out in it with Txuri. She loved it, she had so much fun running in the snow, feeling quite at home. It was a pretty awesome sight watching her in the snow."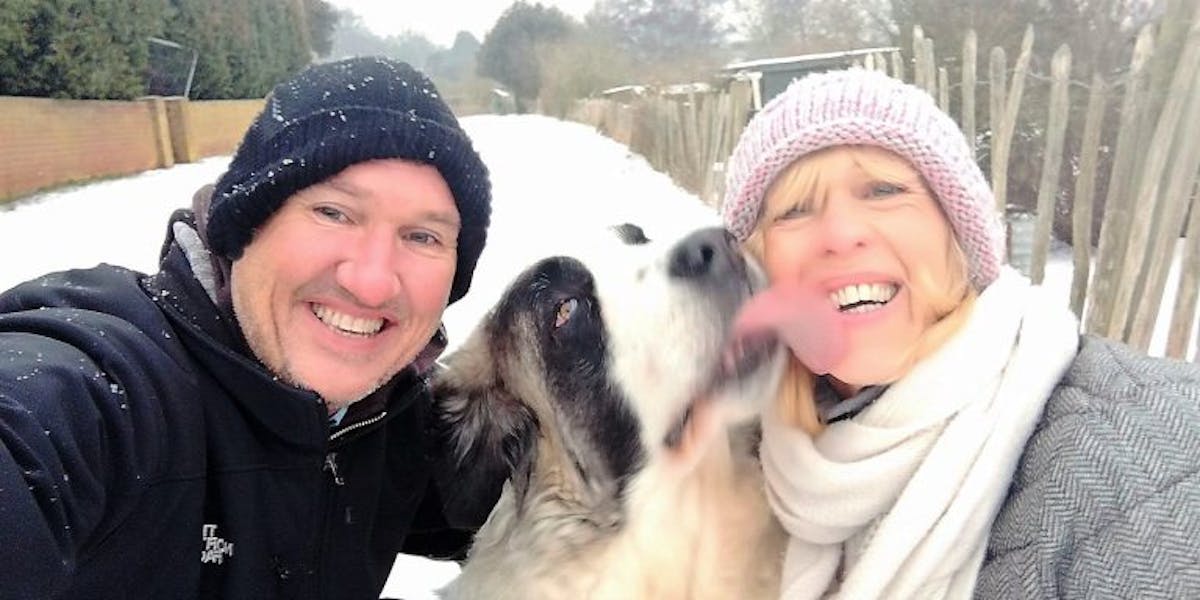 "We regularly sent Diana updates and WhatsApp messages with photos and videos of Txuri so that she knew all was great and Txuri was happy with us. On Diana's return, we cooked lunch for her and stayed the night, hearing all about her incredible holiday.
It was impossible for Jonathan and myself to hold back the tears as we said our bye-byes, there were lots of hugs all around. But it wasn't long at all before we were back visiting, lunching, chatting, and lots and lots of Txuri cuddling. Txuri will always have a special place in our hearts, our gentle loving sweet giant.
Thanks to Trustedhousesitters, we now have this incredibly special friendship with Diana and we will always be lifelong friends, keeping in touch regularly and planning meetups whenever we can.
We never imagined when we began our house sitting journey, excited at the prospect of travel and visiting new parts of the world, just how much we would bond with the pets we cared for and the enormous part the pets would play in our love of house sitting. We adore them all and Txuri was the first of many. 48 sits and 116 animals later we are loving this journey of pets, people and places and the amazing community of TrustedHousesitters."

Many thanks to Julie and Jonathan for sharing their first sit story with us! You can find out more about Julie and Jonathan's pet sitting adventures by visiting their website or by following them on Instagram.
Brought together by a shared love of pets
Pet sitters join the TrustedHousesitters community to keep pets happy at home while their owners are away. The big difference with TrustedHousesitters is that they choose to sit because they long to make lasting memories, not money. To learn even more about how we help our members connect and share with confidence, take a look at our trust and safety page. 
Want to share your first sit with us?
We'd love to hear it! Get in touch with your story and a selection of photos via stories@trustedhousesitters.com.