While thousands of owners connect with caring house and pet sitters every day, it's natural to have questions when it's new to you. And who better to answer those questions than experienced members of TrustedHousesitters? 
We recently invited you to send in your questions, which we then asked our members to answer. In a matter of hours, over 700 owners responded simply to offer you their first-hand advice! Here's what they had to say… 
Expert answers from owners like you
To save you time, our team has carefully selected the three most helpful answers to each of your questions. 
Q1. How does TrustedHousesitters work?
A. "I pay an annual fee and have had/will have six sitters this year. At the beginning I wrote a detailed description of my cats, my home and the local area/attractions. I then post my dates and if people want to stay they contact me via the site. I read the different applications and choose the people I think will be best suited to my cats as they are of paramount importance…"
- Anonymous owner member 
A. "It's pretty easy, you just put in your dates and scroll through the many available sitters and either message them yourselves and they will let you know if they're available, or otherwise sitters will come directly to you to say if they want to come to you." 
-  Jane, owner member 
A. "It's incredible. You get a caregiver and they get a free home stay while your pet isn't relocated to a kennel. Win, win, win. The website is very thorough."
- Cathy, owner member
Q2. How can I start to trust a pet sitter that I haven't met yet?
A. "Communicate with them as much as possible. Video calling is a good idea, and trust your instincts. If something doesn't feel right, wait for someone else to apply."
- Martine, owner member 
A. "My partner had the same concerns initially.... You truly have to trust in the goodness of people. Sitters have references and reviews on the website so there is tangible items for you to base your selection on. I like to interview each person and have a short dialogue with them before we confirm. You can tell so much about someone from just a simple conversation. We have met some lovely lovely people through this site and I can't recommend it enough."
- Anonymous owner member 
A. "We spend a lot of time communicating and chatting with our sitters in advance of their stay. It's important that both parties are fully comfortable."
- Kate, owner member 
Q3. How often does it occur that you can't find someone to do the house sit?
A. "I've been lucky so far, however the more time you can give people the better chance you will have of finding your ideal pet sitter."
- Donna, owner member 
A. "If you are struggling to find a sitter let TrustedHousesitters know and they'll pull out the stops to ensure your place gets advertised more until you find a sitter."
- Mary, owner member 
A. "[It has happened] once in the three years that I have been with TrustedHousesitters and that was a short notice sit over the Christmas period..." 
- Maureen, owner member 
Q4. How will a pet sitter get to know my dogs or understand their complexities?
A. "We have written a detailed description of our dogs and their likes and dislikes. We then follow this up with a Skype call so we can chat face to face. We also ask our sitters to arrive the afternoon before we leave so that they have time to get to know the dogs properly." 
- Anonymous owner member 
A. "You provide as much information on your profile as you can. That way potential sitters will know if there is anything in particular they have to take into account before they offer to sit for you. I also leave an information sheet. Finally, sitters are usually happy to either meet you beforehand if they are local or arrive a day or so before you leave, so they meet their charges and you can go on walks with them etc. and they can ask you questions too.  Remember, they want the sit to be a success as much as you do." 
- Gina, owner member 
A. "In your Welcome Guide*, put as much information as possible. Everyone knows each animal has his/her own personality... Just like humans." 
- Lynn, owner member 
*Owner members set their sitters up for success by sharing a handy manual about their home and pets, known as their Welcome Guide.
Q5. Do you have any tips on how to make sure I'm choosing the right person for my home and pets? 
A. "Be 100% honest so there's no disappointment from the pet sitters and they know exactly what to expect." 
- Anonymous owner member 
A. "Read their bio. If they offer to chat to you first before confirming, do this. Don't always take the first person who applies. If parking is tough in your area check if they drive." 
- Veronica, owner member 
A. "Reading past reviews is a good starting point then communication with the sitter is important. Chatting on Facetime or Skype a few times before making your decision helps a great deal."
- Michelle, owner member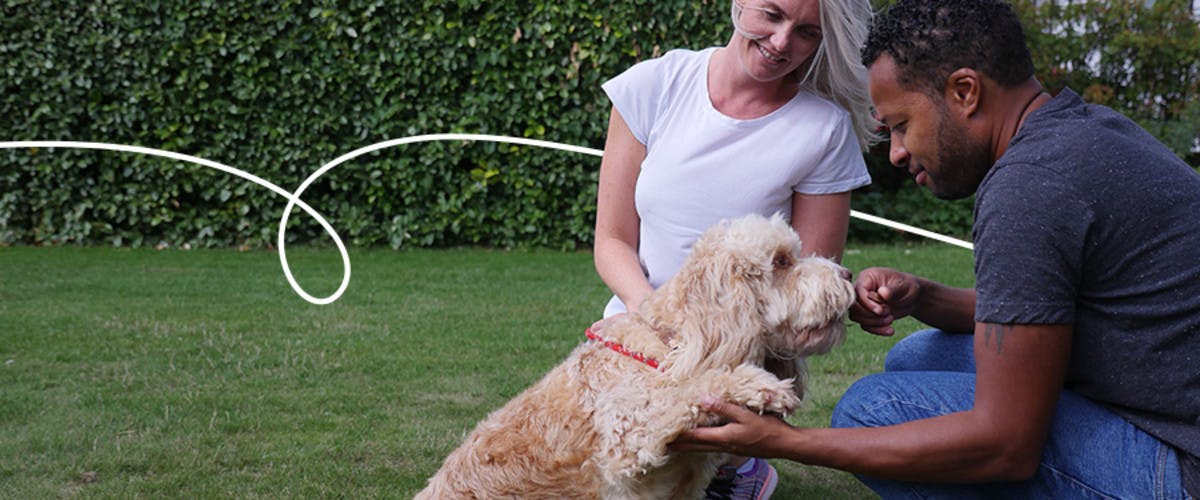 Q7. Can sitters bring their own pets?
A. "Yes, I have had one sitter who had her own dog, a lovely dog that got on well with our dogs and the cat. It's a good idea to have house rules set down from the start ie: are there restrictions on pets in certain parts of the house?"
- Anonymous owner member 
A. "This is your decision. I don't allow other dogs to stay on a sit as my dog is very small and nervous of most dogs." 
- Debby, owner member
A. "For our home they can't because we have free range house bunnies." 
- Lisa, owner member  
Q8. How do your pets respond to having a different person staying with them each time you are away?
A. "We found as it's their normal surroundings they love it. Ours actually get more attention with the house sitter."
- Lynne, owner member 
A. "As we pick sitters only after we have seen them interact with our pets, the two dogs are delighted with the extra attention they receive."
- Anonymous owner member
A. "Mine have always been a bit wary but a true pet lover will just adapt to the pets rather than the other way around."
- Paul, owner member 
Q9. Do you supply food for the house sitters or do they bring their own?
A. "I have some basics (milk, bread, cheese, fruit, etc) in the house for the first day, but the sitters then usually get their own groceries/supplies."
- Dawn, owner member 
A. "They do not expect you to provide any food. But I offered them to use any of my perishable food I had in my pantry and in my refrigerator." 
- Sumitra, owner member 
A. "I usually ask if there is anything I can have waiting for them when they arrive."
- Anonymous owner member 
Q10. Are sitters interested in caring for homes with 10 cats?
A. "I have nine indoor cats which can go out any time they want and a couple of outdoor cats that l feed regularly. I tell this to all my house sitters and believe me they are interested."
- Tugba, owner member 
A. "It's their choice. You tell them there are 10 cats, if they're not interested in caring for that many, they won't apply." 
- Susan, owner member 
A. "There are sitters for every type and number of pets. You must make it clear how many you have and what you expect from a sitter." 
- Penny, owner member 
Q11. I often leave home for two or three days at a time — would the house sitter will always be the same person?
A. "Not necessarily. After you post your dates, it's possible the same sitter will apply or you can always 'invite' a particular sitter to see if they are available." 
- Joanne, owner member 
A. "We love having the same house sitters come back. It is not always possible but we do reach out to our favorites first before opening the sit up to other applicants."
- Anonymous owner member 
A. "I like variety for my dogs so that they don't get too dependent on it always being the same person. I think it's good to socialise them with different people."
- Angela, owner member 
Q12. How can you trust that the sitter is going to look after your pets and home and not treat it as a free holiday house?
A. "Trust your gut, ask the right questions and make sure you have face to face chat prior to arrival. Ask your questions and watch the body language — it often tells you more than the words you hear!"
- Lauren, owner member 
A. "There is definitely a leap of faith involved. Choosing sitters who have several positive reviews can assuage some of these apprehensions. I've been using the service for years and have had nothing but positive experiences."
- Anonymous owner member  
A. "Our experience has been wonderful. Our home and animals have always been well cared for. I would actually hope that people coming all this way to look after our place might have the opportunity to do a little local sightseeing." 
- Karen, owner member 

Q13. If we've had a bad experience with people in our home, how do we trust again?
A. "I had a bad experience with someone I met through a friend (not someone from TrustedHousesitters) and point-blank asked the people I interviewed from this site how they would have handled themselves in such-and-such situations. I was absolutely reassured by their answers, and also by their five-star reviews."
- Anonymous owner member 
A. "That would be difficult but I guess you have to believe that most sitters are honourable, honest and trustworthy and have your pet's welfare at the forefront."
- Tim, owner member  
A. "See if you can pick out if there were signs that you may have overlooked and watch for those moving forward."
- Anonymous owner member
Q14. How do you know you're not inviting a criminal into your home?
A. "I read the reviews and do a personal Skype interview. We do, however, remove our most valued items from the home so that there isn't even a possibility of a problem. This protects us and also the house sitter!"
- Becky, owner member  
A. "I do some research on Google and social media sites if I have their full names.  Sometimes they offer it to me. I think it works both ways though...they need to get to know me as well!"
- Anonymous, owner member 
A. "I let go of fear and choose to trust. I've not been let down. These people treat my home and pets with more love and care than I do. They honor me, themselves, and TrustedHousesitters. These relationships affirm for me the highest of human qualities."
- Amy, owner member 
Q15. How last minute can a house sitter be arranged, as sometimes we might decide the day before?
A. "I was lucky to find great house sitters only several days before I left. I don't think it's fair to ask a sitter the day before to stay at your house but sometimes this is unavoidable. You can always put it out there and see what responses you get. If people have to make travel arrangements at a late stage I would feel responsible for sharing some travel costs." 
- Anonymous owner member 
A. "I have booked anything from months ahead to two days. It's just luck who is looking at the time. A longer lead up gives you more time to receive applications and therefore greater choice." 
- Anna, owner member
A. "I am risk aversive so I make sure I have conversations and exchange emails with my sitters a few weeks before. I like to meet my sitters and know my pets will be comfortable with them so I can enjoy my holidays." 
- Linda, owner member  
Q16. Do house sitters actually live in your home?
A. "Oh yes and from our experience they take very very good care of it.  Our home is only three years old and we very confidently leave them to it." 
- Carol, owner member 
A. "Yes, that is the great part for your animals as they have the company!"
- Anonymous owner member 
A. "Yes, so you should treat them with the same respect you would any other guest. So make the effort to clean your home, provide a welcoming and comfortable bedroom, and supply the amenities they will need. A little welcome bag of treats is also a nice touch.  Imagine what you would expect if you were the sitter, and do the same (or better!) for them."  
- Tracey, owner member 
Q17. What happens if the house sitter accidentally damages something in your home?
A. "I have never had that happen and I have had 10 house sitters stay for periods up to 7 weeks and as short as a weekend. However, I do believe TrustedHousesitters have insurance included (at no charge) to cover damage caused by house sitters..."
- Anonymous owner member 
A. "TrustedHousesitters provide insurance now. Incidental damages such as a broken glass can be par for the course."
- Jan, owner member 
A. "Lock away any valuables. Discuss this with the sitters. I tell them not to worry about any breakages of damages but to please let me know." 
- Jeanette, owner member 
Q18. How do I get started?
A. "Easy, it's all on the TrustedHousesitters website or you can speak to someone there if you are unsure."
- Jeanette, owner member 
A. "Join and then complete your profile. Specify your requirements very clearly. Add photos of your house and pets. Then post your dates. Make sure your dates include enough time to do a handover when they arrive and when you come back. Also, you need to compile notes for your house sitters…"
- Anonymous, owner member 
A. "Join the site, provide as much information of the home and pets as possible. Provide plenty of photos of the home and pets."
- Dee, owner member
Still have questions? Don't be a stranger…
You can send all your house and pet sitting questions to Auntie Angela — the TrustedHousesitters Community Manager with all the answers. 
Want to talk to our Membership Services team for further guidance or help getting started? Simply get in touch.