The saying goes that "all pets are therapy pets... most are just working undercover!"
From their ability to brighten our day to their cute nuzzling noses and wagging tails, we know life is richer when it's filled with the company of our four-legged friends. And this year, more than ever, our pets have been there for us: keeping our spirits high, making us laugh, and giving us companionship and company — when we really needed it the most. 
That's why this National Pet Month we're celebrating some of the special pets in the TrustedHousesitters community, and saying thank you, pets, for all that you do!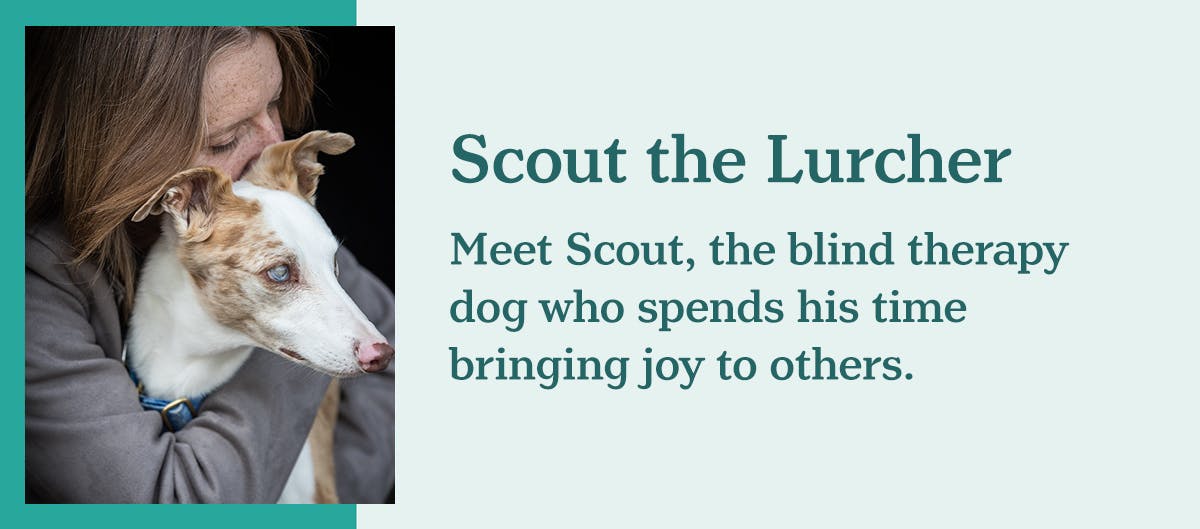 Scout the shortsighted sighthound
Abandoned, blind, and just days away from death, Scout's story doesn't start with the happiest of beginnings, but his luck was destined to change when he was rescued by the East Midlands Dog Rescue, and lovingly nursed back to health by owner, Tracy. 
Now an ambassador for blind dogs, this loveable Lurcher is dedicated to raising money and giving back to the charities that helped him when he needed it the most. 
"Scout was still busy up until lockdown hit with his therapy visits to one of our local dementia care homes, as well as being a popular guest at the Whitestone Community Carers cafe, where he even took part in a bit of yoga!
Unfortunately, our fundraising efforts for East Midlands Dog Rescue have taken a big hit during the pandemic, with all outdoor fundraisers being cancelled and their charity shop having to close. But, we did our bit by running Scout's online dog show, raising a much needed £500."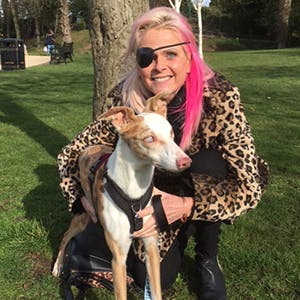 And Scout's talents don't stop at fundraising — he also played a major part in helping to rebuild Tracy's sister's self-confidence, following the traumatic loss of one of her eyes. "Walking Scout made her able to face the world with a smile again."
As well as receiving a TrustedHousesitters Pet Plaque in 2018, prior to lockdown Scout was honoured with a feature in an episode of the BBC's Home is Where the Art is, where three talented artists were tasked with pitching their ideas for bespoke artwork depicting Scout. "It was a very emotional process resulting in two beautiful creations that will always be treasured."
Sadly, the pandemic has had a real effect on sociable Scout, who developed an uncharacteristic quietness about him at the beginning of the UK lockdowns. 
"He is a dog that thrives in crowds and loves the sound of voices and chatter which have been missing on our daily walks, so we have tried to fill the void by finding new places to walk that are filled with bird song and interesting "sniffs" for Scout.
Times may have been challenging of late but Scout remains his usual optimistic and positive self and reminds me daily that we are getting through this."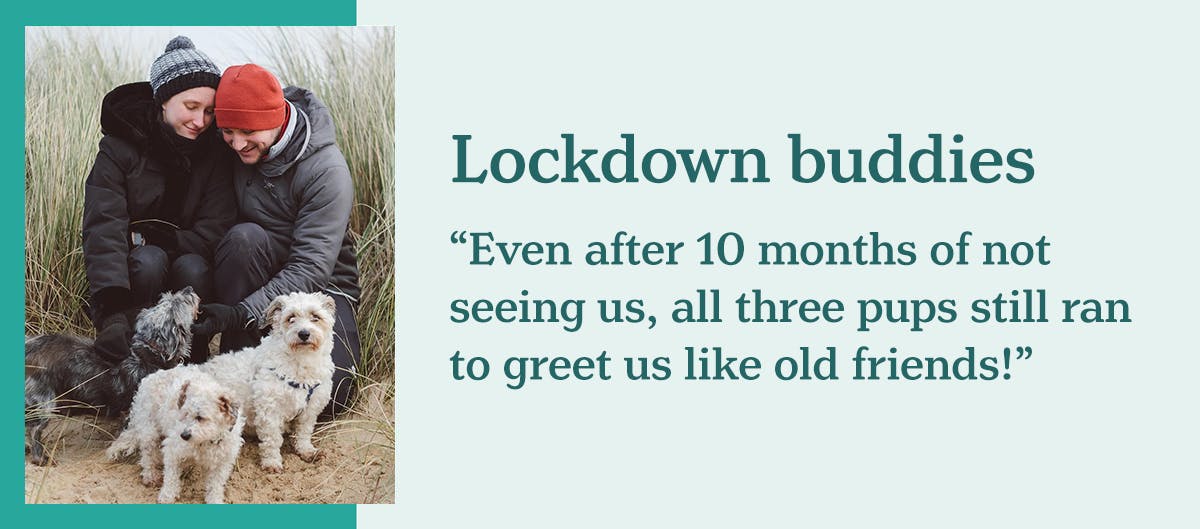 Chris and Suze's lockdown buddies
"As full-time nomadic house sitters, we're used to being flexible whilst staying organised to ensure the success of our lifestyle. However, a third UK lockdown has forced us to roll with the punches more than ever! As we have no home of our own to hunker down in until the lockdown ends, we've been immensely grateful for TrustedHousesitters connecting us to homeowners who are still in need of pet sitters. 
At the beginning of the year, we completed a six-week house sit caring for three dogs in Norfolk — our fourth time at the sit. We love being invited to return to this house sit, and the rural location made it the perfect place to isolate ourselves while still being able to enjoy daily walkies with furry friends! 
We spent our days walking through the local countryside with the dogs at our heels or enjoying the sea air with them on beaches just five minutes down the road — all of which were deserted. Our bond with these dogs grows stronger every year, and even after 10 months of not seeing us all three pups still ran to greet us like old friends upon our arrival! 
Had it not been for our relationship with the homeowner, who we met through TrustedHousesitters, the beginning of our year would have been a lot more stressful and we're so grateful we could share another extended period with those three gorgeous dogs. It gets harder to say goodbye every time!"
To read more of Chris and Suze's pet sitting adventures, head to their website, or follow them on Instagram @chrisandsuzegowalkies.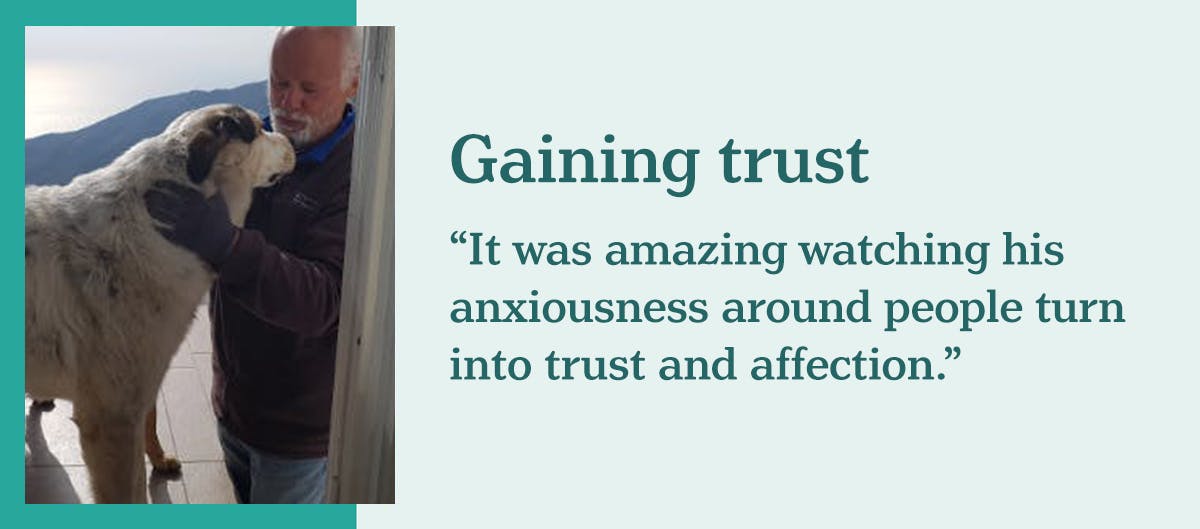 Marion and Chris: Felipe the gentle giant
"Although each animal, with its own personality, is special to us, one dog definitely won our hearts: a Spanish mastiff by the name of Felipe.
As with many dogs in Spain, Felipe has a sad history. He was owned by two brothers who used him to guard their flock of goats. When the brothers gave up the goats and moved into town, they abandoned Felipe. So, when owners, Maggie and Steffen, invited us to house sit for them in Spain, they asked us to keep feeding Felipe, who roamed nearby.
He devoured the dry food we shoved on a plate underneath the fence as long as we kept standing behind the fence. Whenever he felt we were coming closer to him, he would instantly take off, although he was clearly starving. We wished to have him closer to the house and spend time with him, show him how much we adored him, to stroke him, have him trust us.
We always made sure a bucket was full at night for Felipe, as we assumed that this was his only source of water. One night, Chris saw him striding down the terrace. This time Felipe actually let Chris stroke him and was rewarded with a piece of ham. Three days later, he walked straight up to me, nudged me and finally let me stroke him. That was the turning point.
Day by day he seemed more comfortable being around us. He would never come into the house, though, no matter how strong the wind might blow. However, it was amazing watching his anxiousness around people turn into trust and affection. We felt as if he adopted us as his family, and we are very pleased for him to have overcome his fear of humans and for having made up for the harm others might have done to him.
It was with a heavy heart when we left this three-month house sit. Not only had we fallen in love with the house itself and its unique location, but also with a very special Spanish mastiff. It was a huge consolation that Maggie and Steffen invited us to come back. It felt like a homecoming when we arrived and Felipe and Carrie came up to the car to greet us enthusiastically!"

Was there a special pooch or a caring kitty that helped put a spring in your step this year? We'd love to hear all about the special pets that you're thankful for, so please do get in touch with your pet pics and stories this National Pet Month.
We'll also be celebrating special pets all month long over on our Facebook and Instagram, so make sure to keep an eye out for all the cute and funny pet content coming your way and tag us in your own photos using #TrustedTales.