At TrustedHousesitters, all of our members are expected to maintain tip-top levels of cleanliness while on a sit, and the owners you're sitting for will appreciate the extra care and attention you've made to ensure they return to happy pets and a clean, tidy home.
To help you on your way, your Community Manager, Angela Laws, has put together her top tips to help you delight your owners and conduct happy and successful sits… Hello, 5-star review and a return house sit request!
Cleanliness checklist
It's important to make sure when leaving a sit, that you leave it as spick and span as found it. Here's a handy 10-point cleaning checklist to help you on your way:
Tidy and dust, vacuum and/or mop the floors (don't forget to empty the vacuum bag, too)
Empty all rubbish/garbage bins, and take out any recycling
Empty the dishwasher (or wash and put away any dirty dishes), and give the cooker, microwave and any other cooking utensils a clean
Clean out the fridge and dispose of any open or perishable food items, and replace any cupboard items you may have used
Clean the bathroom, including the shower/bath and toilet, and replenish any soaps or toilet paper you've used up. Don't forget to take your toiletries!
Launder any towels and bedding you've used, and remake the bed with clean bedding — if the owners are home early and there's no time to do this step, don't worry. Just make sure to strip the bed and put the bedding in the washing machine
In the bedroom, double-check the wardrobe and drawers if you've used them, and make sure to do a final check to ensure you've not left anything behind
Launder pet beds and blankets, and clean all of the pet's dishes
Used the owner's car? Make sure it's clean and full of gas/petrol
 Finally, check outside: is the garden, yard and driveway as tidy as when you arrived? If the pet you've been caring for has been to the toilet in the garden, don't forget to pick up and dispose of any "surprises"!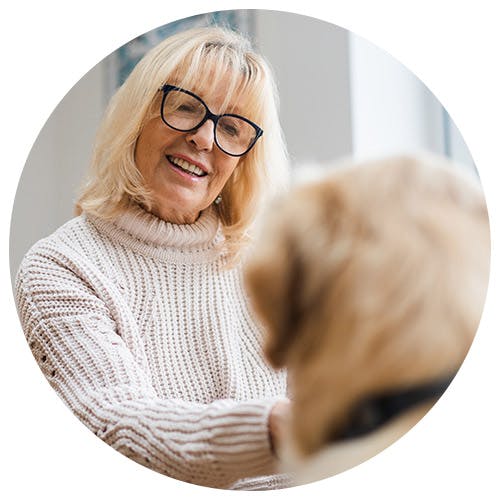 Auntie Angela's top tip: "While you may have good intentions in leaving leftover items or food "just in case" the owners may want them, a good rule of thumb to remember is: it wasn't there when you arrived, make sure it's not there when you leave!"
Visit your dashboard now to finalise any last-minute details of your upcoming sit. From all of us at Team Trusted — we hope you enjoy your time away!

Welcoming a sitter instead?
Just as sitters are expected to leave a home clean and tidy, it's equally as important that owners ensure their home is clean and welcoming for their sitter's arrival. If you're an owner member with an upcoming sit, make sure to give your sitter a warm welcome with our owner cleanliness checklist below.