It's been another great year spent helping one another travel while keeping pets happy at home. As we prepare for The Trusted Awards 2019, let's take a look back at the heartwarming stories of the members who won and what they're up to now. 
It was the care that Joyce's sitter Maryanne gave to her cat, Mallory, while she was away that saw her take the crown in the 'Specialist Care' category last year...
The thought of a pet being involved in an accident is any pet owner's worst nightmare. Sadly, this was a reality for Joyce whose youngest cat, Mallory, was in an accident shortly before she was due to go on a long-haul holiday. This meant accident after-care was to be in the hands of their house and pet sitter, Maryanne.
Although luckily Mallory's injuries weren't fatal, he was left with a broken jaw that had to be wired for six weeks –– the removal of which was due while Joyce was away. As well as providing specialist care to Mallory, which included ensuring he didn't go outside, there was also their other cat, Shadow, to keep an eye on. This didn't phase Maryanne, who willfully took on the role of "nurse" to Mallory, ferrying him to and from the vet for his operation in taxis, as she did not have a car.
"Maryanne really looked after Mallory, and by the time we got back he had his confidence back, and was not frightened anymore to go outside. She had to cope with our other cat too who could use the cat flap and go out at night which Mallory initially was not allowed to do. All very complicated but she was totally unfazed and kept us informed whilst we were away sending us photos and updates. She was a real stalwart, even dealing with his offerings of live voles when he was better and wanted to thank her."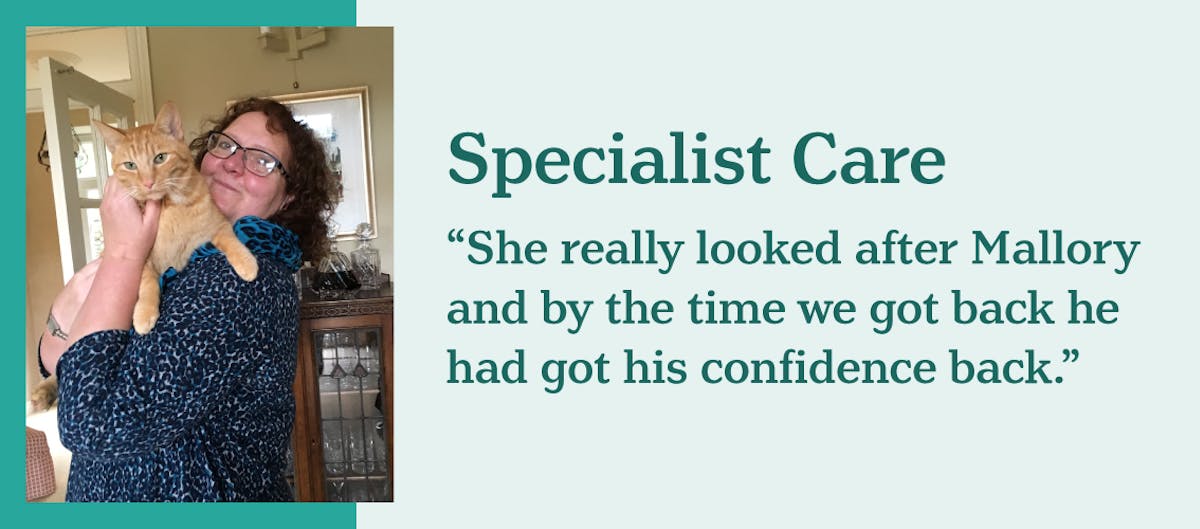 Maryanne was extremely pleased to be awarded as the winner of this category, as she didn't just make new feline friends during her stay, she left with two new human friends too!
"What an honour! Joyce's cats Mallory and Shadow were lovely little rascals, and Joyce and George were tremendously kind and generous hosts. I feel very lucky to have met them and to have had such wonderful experiences with them and with other animals' families through the TrustedHousesitters website."
Or do you have a special sit in mind, or maybe a perfect pet pal?
Nominate a sit