As we prepare to celebrate our 10-year anniversary, we're looking back on ten years of TrustedHousesitters and sharing some of the heartwarming tales and incredible connections our members have made along the way. In 2011, Australian house sitters, Peter and Deb, embarked on the first of ten house sits they would spend with Margaux, a loving, energetic black Lab from Uzes, France. Here, they share how they came to be a 'second pair of owners' for Margaux, and how house sitting gave them a whole new perspective — and a new way of life...
We first shared a house sit with Margaux in the beautiful French village of Uzes, all those years ago. Little did we know what effect this would have on our lives, both from a house-sitting aspect and a new life experiences for us. 
Our first time in Uzes caring for Margaux coincided with a-once-in-a-decade flood where the water rose by 15 metres, and we were forced to take refuge in a third-floor bedroom before the water receded. This, of course, was something we had never experienced before and made us both more empathetic to others who had suffered flooding before. And since! It also made us realise the fundamental importance of why people have house sitters — to provide security and presence in a property, as well as providing security and presence for the pets under our care.
I remember mowing the lawn under the watchful eye of Margaux one day, and at the end of the next found the lawn had been washed away. I remember us all (Deb, Margaux and me) looking out of that third-floor window seeing the water start to flow over the window sill before it stopped. I also remember us shovelling mud and water out of the house after the rain stopped.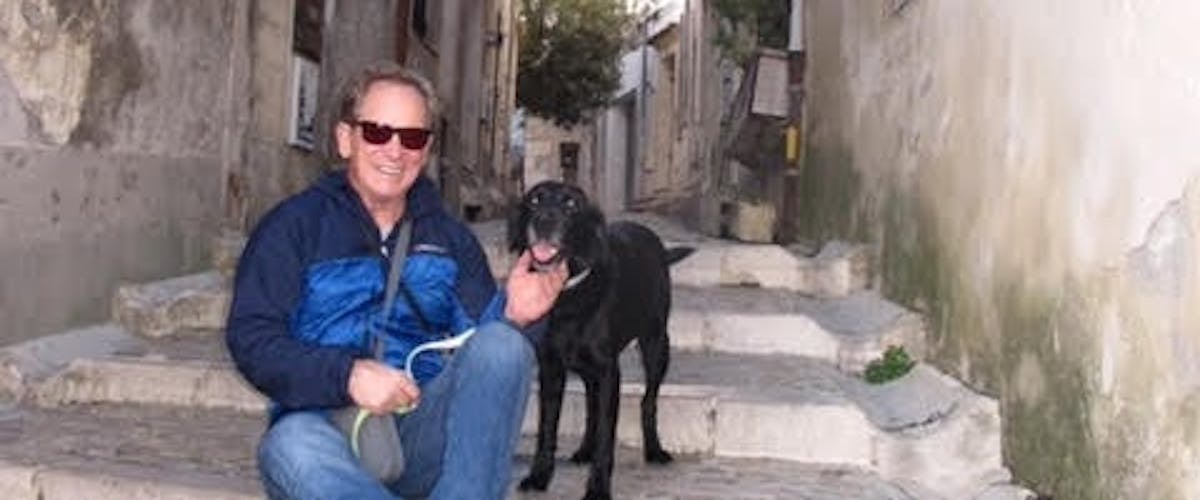 I also remember that was the first of ten times we were invited to return to Uzes to sit for Margaux again. Over the next five years, we spent nearly 12 months house sitting for Don and Louise (Margaux's owners), and became family. We even felt as though Margaux was 'our dog' when we were with her. Margaux, we think, came to see us as 'her other owners'. She seemed to love it when we came to stay. Margaux, Deb and I did lots of things together, taking in the wonderful sites in the southern part of France, sharing Christmases and birthdays and enjoying hanging out.
During that time, Don and Louise had other house sitters come and sit for Margaux. We got to know most of these people and they all had embraced dearly the opportunity that they had been given. And of course, loved Margaux just as we did. And the new cat, Fluer, who had found her way into the household.
Don and Louise have recently moved away from Uzes to a small village close to Bordeaux. Right now, we are waiting for the world-after-Covid for Don and Louise to be able to resume their travelling adventures and their need for us, or other sitters, to return...

Do you have a story to share?
From tales of newfound friendship to unforgettable pets and adventures, we'd love to hear your stories as a TrustedHousesitters member. Help us to celebrate our 10th birthday by submitting your story, or sharing your experiences over on our Community Forum.