It's transforming the lives of pets and people around the world, but what is dog sitting and how can it help you? You're in the perfect place to find out… 
What is dog sitting?
Dog sitting is a kind and caring alternative to boarding kennels that sees dogs stay in a home environment while their owners are away. While some dog sitters board pets in their own house — offering their canine clients a home away from home — in-house dog sitters stay and provide care in the pet's very own home. 
With vets agreeing that all dogs feel happiest when in their own home, in-house sitters are the preferred option of dogs and owners alike. It's a special kind of pet care that suits animals of all kinds, from the elderly and anxious to packs of pets who'd rather stay together in their own territory. 
How does dog sitting work?
Dog sitting can work in a variety of ways, with some professionals offering drop-in services while other passionate pet lovers sit in an owner's home for free. This means that the answer to this question depends on the kinds of dog sitting websites and communities you're engaging with.  
So what is dog sitting in the world of TrustedHousesitters? It's all about sharing the love of pets, so sitters never charge for the care they provide and owners never charge for them to stay in their home. It's a special exchange that sees owners travel with true peace of mind while sitters get to stay with cute canines in unique places.  
Here's how it works: 
1. Both owners and sitters pay just once a year to become a TrustedHousesitters member.
2. Owners and sitters connect with each other to arrange as many sits as they like, safely and securely, using the website or easy-to-use app. 
3. Owners can then travel with peace of mind while sitters make wonderful memories with new pet pals. 
Of course, our website has lots of information about what dog sitting is and how it works for both owner and sitters. There you can also learn about all the tools and support included in a membership, from 24/7 Vet Advice Line to Insurance Backed Guarantee covering all sits for up to $1 million.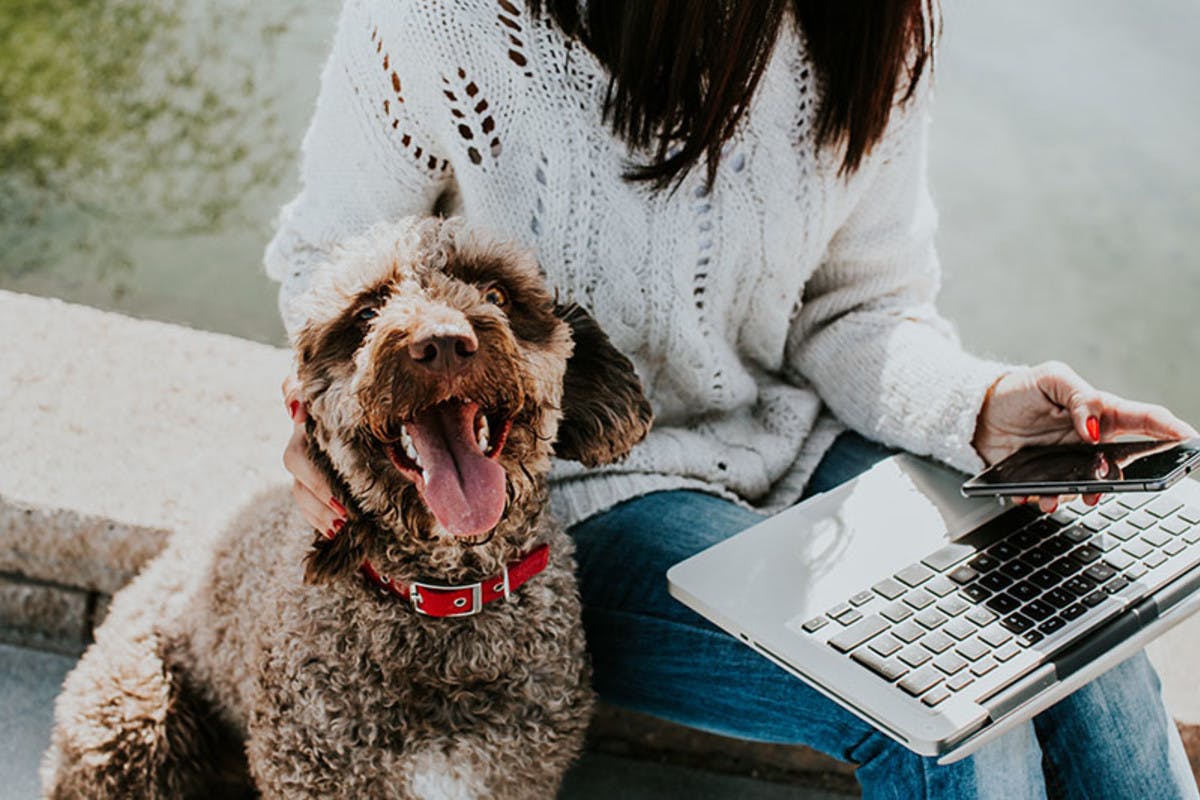 Why you'll love dog sitting
Whether you're lucky enough to have a dog in your life or not, dog sitting can enrich your life... 
Why owners love dog sitting
Owner members of TrustedHousesitters love dog sitting because it helps them travel with true peace of mind knowing their pet is safe at home with someone who truly wants to be there — not a paid sitter or coworker they've called on for help. 
Why people without pets love dog sitting
By joining as a sitter member, pet lovers get to spend time with adorable dogs in homes around the world. With a canine companion welcoming them to each new destination, it's a dog lover's dream way to take in a new place. 
Why dogs love dog sitting
Of course, dogs love it because they get to stay safe and happy in the place they love best — their own home. And with a new human friend taking care of them and keeping up their much-loved routine, they barely even notice their owner's not there.
But don't just take our word for it! Every day, members are sharing special stories about how dog sitting has changed their lives. From helping owners finally travel with true peace of mind to helping people like Brooke and Buddy have the time of their lives with pets in places like Italy and Hawaii. 
"Life-changing website! We easily found a great couple with lots of house sitting experience to come and look after our home and sensitive dog. We feel totally relaxed with the people we choose and can really enjoy our time away knowing our house is secure and our dog is happy in his usual routine." 
- Emma, an owner member from the United Kingdom
"There is so much to gain from experiencing other places and taking on the challenges that a journey like that brings – especially as a couple. But when I close my eyes and look back on the moments that really filled my heart and did something wonderful for my soul, I'm overwhelmed by precious fluffy faces."
- Brooke, a sitter member from America
What is dog sitting to you?
So what is dog sitting? Well, as you can tell from our members' stories, it means something different to pups and people around the planet. 
If you're ready to discover what dog sitting could mean for you, then please get in touch with our Membership Services team. Made up of both owners and sitters, they're the perfect people to talk to about dog sitting.