Clare — otherwise known as @claresitsdogs — began her house and pet sitting journey one night in November 2017, a night that would change her life as she knew it. Here, she shares how joining TrustedHousesitters helped her swap her daily 9-5 for a life filled with passion, and the joy of caring for other people's pets...

"Do something you love and you'll never work a day in your life. That's the saying, right? Well, that never really resonated with me until now, 3+ years and counting since I left my regular 9-5, which I have to say was more like a 9-9!
It was about 2 am on what Americans call "Black Friday" in November 2017, the day after Thanksgiving, and I was burning the midnight oil designing a product for a big corporate retail company. It was a job I'd only just started having been headhunted and having worked for myself for almost six years prior. The workload was insane, coupled with all the orientation as I was a new hire, I was heading for a breakdown — FAST! I couldn't get any work done in normal hours, as physically I always in back-to-back (mind-blowingly pointless) meetings while at the office."
After signing up to TrustedHousesitters and receiving our daily alert emails, an opportunity came knocking for Clare...
"I was just checking my emails one last time before hitting the sack when I saw a 'Black Friday' offer from TrustedHousesitters, for 25% off membership for 24 hours only. Well, I'd been thinking of joining for a while, just to use maybe a couple of times a year to go abroad and look after pets while there. I've ALWAYS loved animals, having rescued two dogs myself when I lived in the USA, and already being signed up to the website, though not joined, was privy to all the wonderful places I could go from their daily email alerts.
I didn't hesitate, I just went for it. Paid my first yearly membership, shut down my laptop down, and retired wearily to bed..."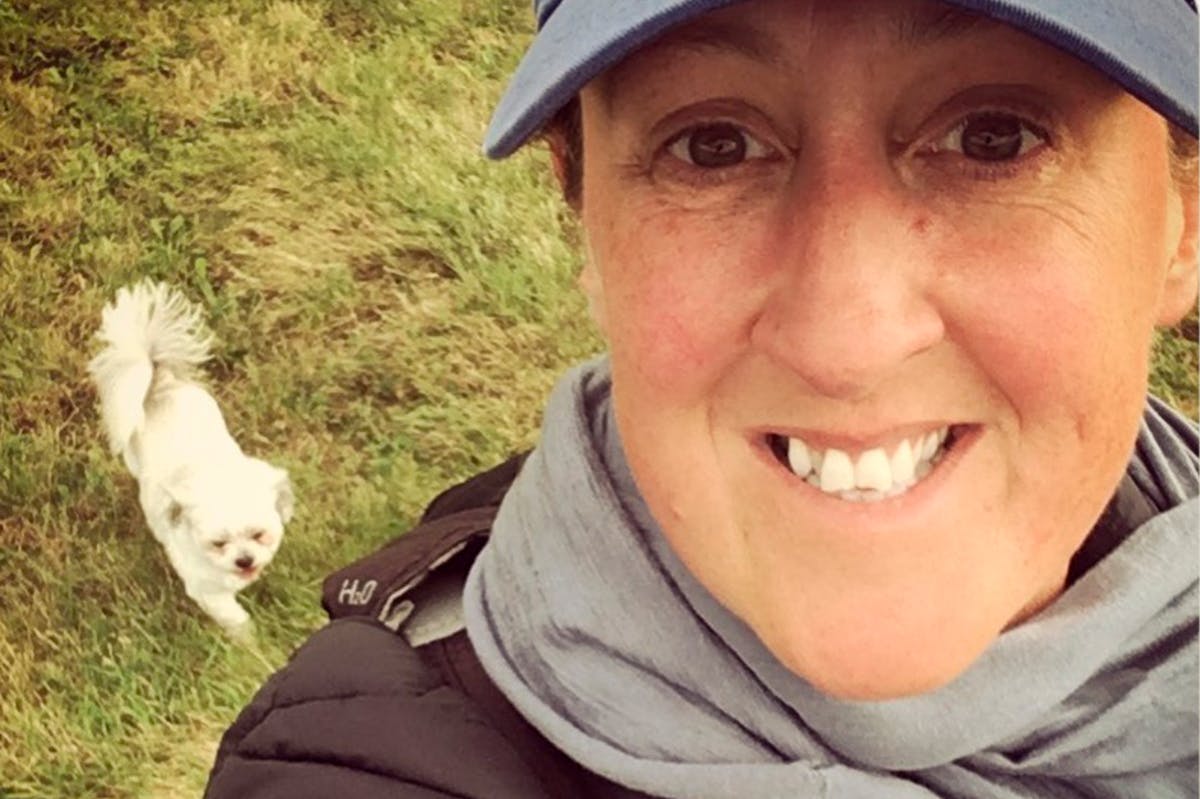 "It was about 11am the next day when I got a call, that happened to be the 11th. The number came up as Brighton, which intrigued me as I didn't know anyone there. I also have a 'thing' for the numbers 11:11 (that's an essay in its own right) so I picked up. I wish I could remember the caller's name, but I was lost in the excitement of what I was hearing… I had won a lifetime membership to TrustedHousesitters! Apparently (unbeknownst to me), having joined that day I entered a raffle where only 25 people (from all over the planet) could win lifetime membership, and I had won!
I guess I believed that was fate calling, as I handed in my resignation on the following Monday (I lasted three weeks), gave up my coach house rental and have never looked back. I'm now permanently smiling like the Cheshire cat in Lewis Carroll's Alice's Adventures in Wonderland."
Shortly after winning her lifetime membership, Clare embarked on her very first sit — the first of many! — which would go on to shape her future house sitting adventures...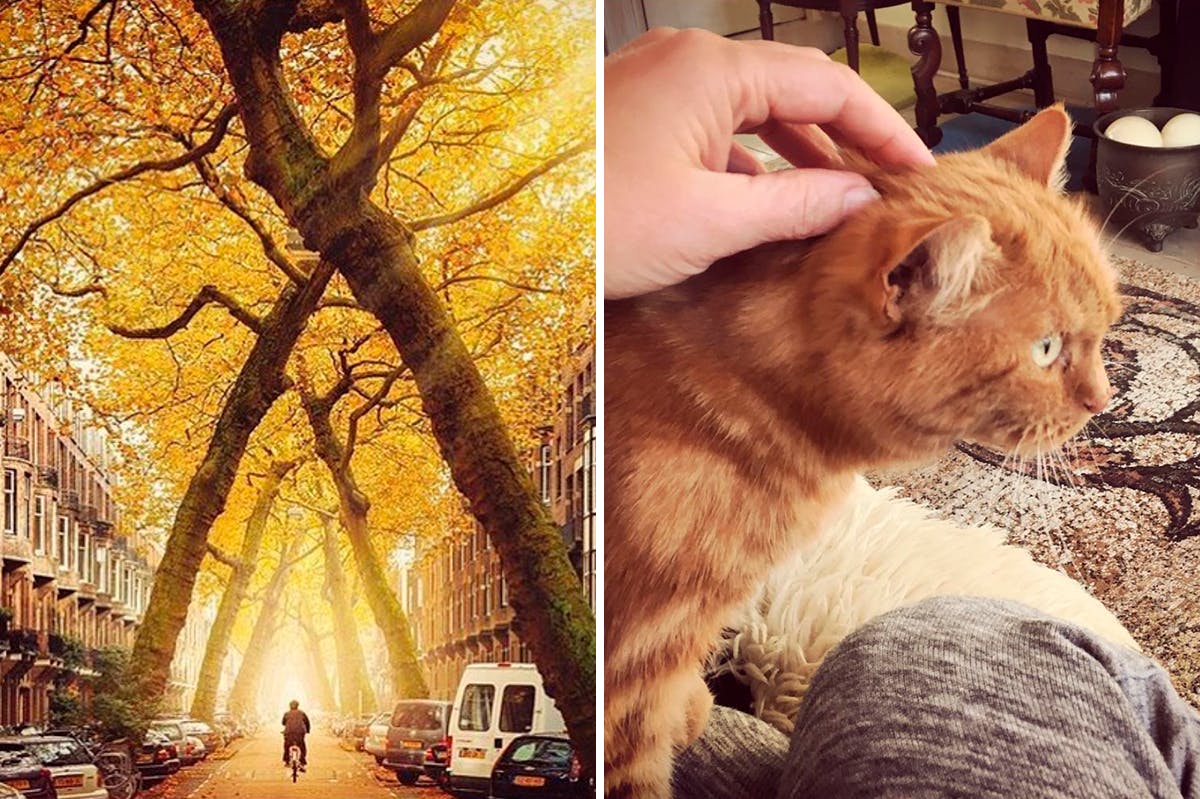 "My very first sit was in Amsterdam (one of my favourite cities in the world) over Christmas and New Year, which I was really lucky to get as I had no reviews yet, only a couple of great external references. The apartment was on one of the most stunning streets in the world — I was blown away.
My first 'client' was a gorgeous but grumpy (owner's words — not mine!) ginger cat called Paillette, pronounced "pie-ette". Her 'hoomans' were really wonderful too, she was Canadian and he was English. It was a fabulous sit as the apartment had a rooftop terrace, so it was THE place to be to see all the festivities on New Year's Eve (however Paillette wasn't so keen on the fireworks, so didn't join me). Our relationship, however, was truly sealed over some Mascarpone cheese I gave her when I made a tiramisu for her hooman's return!"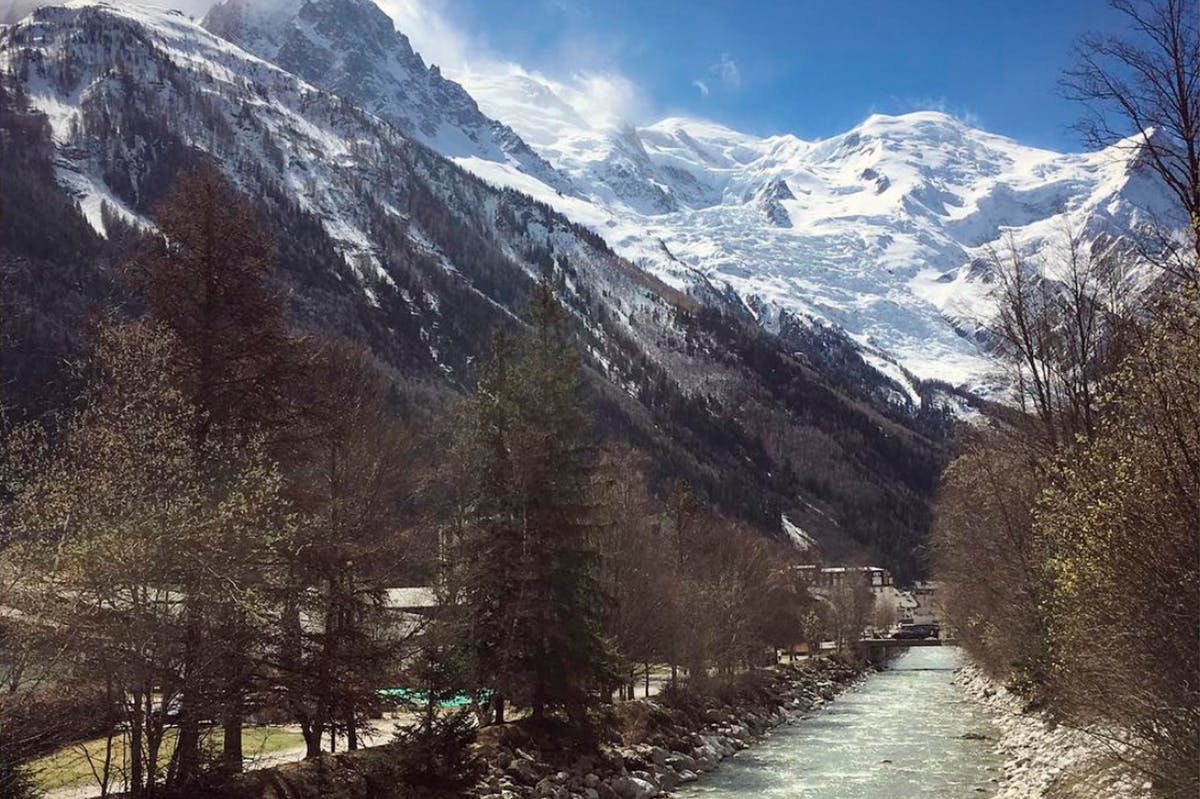 But it was on Clare's second sit where things took a rather eventful turn!
"My second sit was in Servoz, France. An equally stunning destination with a totally jaw-dropping view of Mont Blanc from my window! My client that time was a Black Labrador called Maisie, who, unexpectedly was on heat… and boy did we have a crazy introduction!"
Trusted tip: check out our top tips for communicating your way to pet sitting success.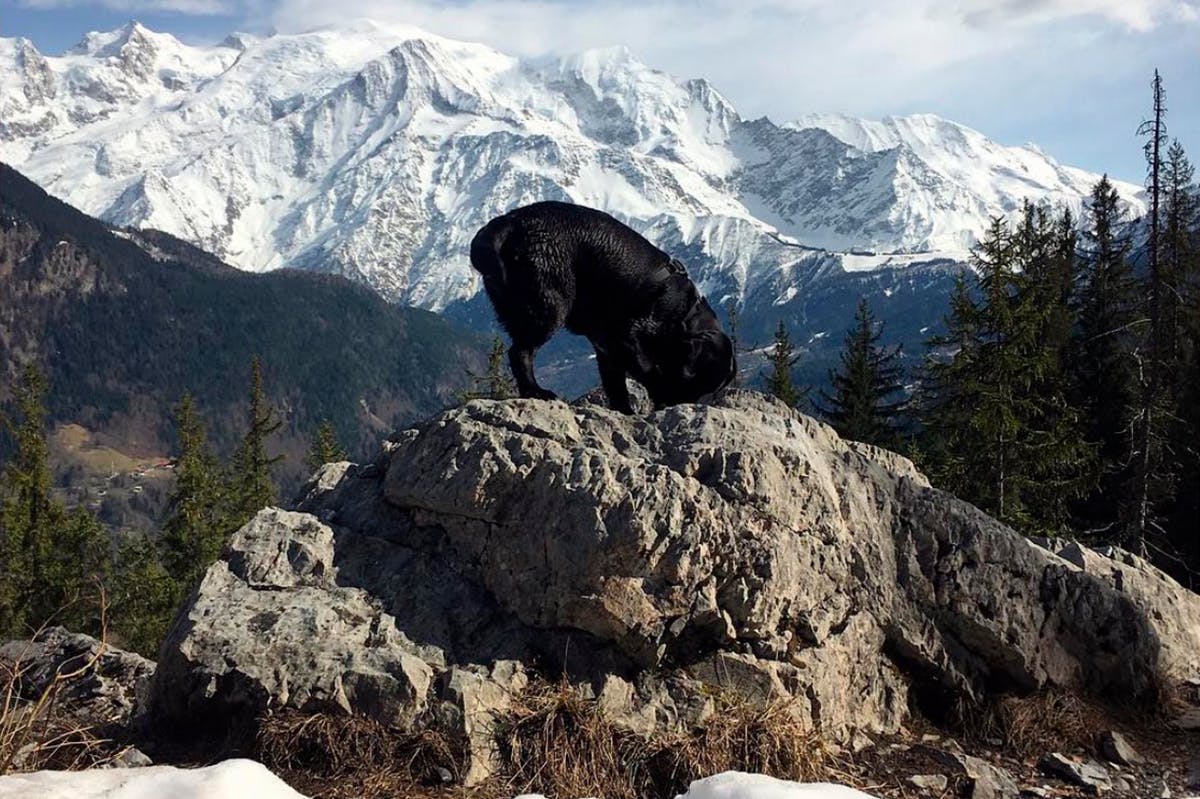 "I was pretty tired on my arrival as I had not slept the night before as I had a pretty early flight out of Bristol. Having flown in on the Swiss side of Geneva airport, my rental car was booked on the French side, and when collecting it was asked if I wanted to pay the €40 for the 'vignette' (a sticker, basically) to drive the 10 mins I needed on the Swiss motorway to get to my destination. I refused (I'm pretty thrifty), so the drive to Servoz took me double the time as I had to stick to the French roads, meandering through quaint little French villages at 20kms per hour (and typically, I got a speeding ticket — so much for me being thrifty!)
I think I had only arrived for about 10 minutes, long enough for a cup of tea, when Maisie's owner asked if I wanted to come on a walk to see the route she ran daily with her.
Well, if you find yourself in Servoz, you will soon discover that a walk anywhere invariably means going uphill, as you're down in a valley. Now just to add, I am slightly asthmatic and coupled with the location and high altitude my breathing was terrible and I honestly think the owner thought I must be the most unfit human on earth (I am not) but I genuinely sounded like I was at that point. FYI, everyone is 'uber fit' in Servoz and the dress code of choice is Lycra.
Having mentioned that Maisie was on heat, she would usually happily just run alongside her mum, but due to this, mum had this leash/harness contraption that you wear around your waist, much like people that do canicross. So it was that I found myself on the way back from our walk, taking the reigns myself so to speak and putting this leash around my waist. It was about 5 minutes in when Maisie took off after something with me attached to her! I had no choice, run or be dragged… I chose run!"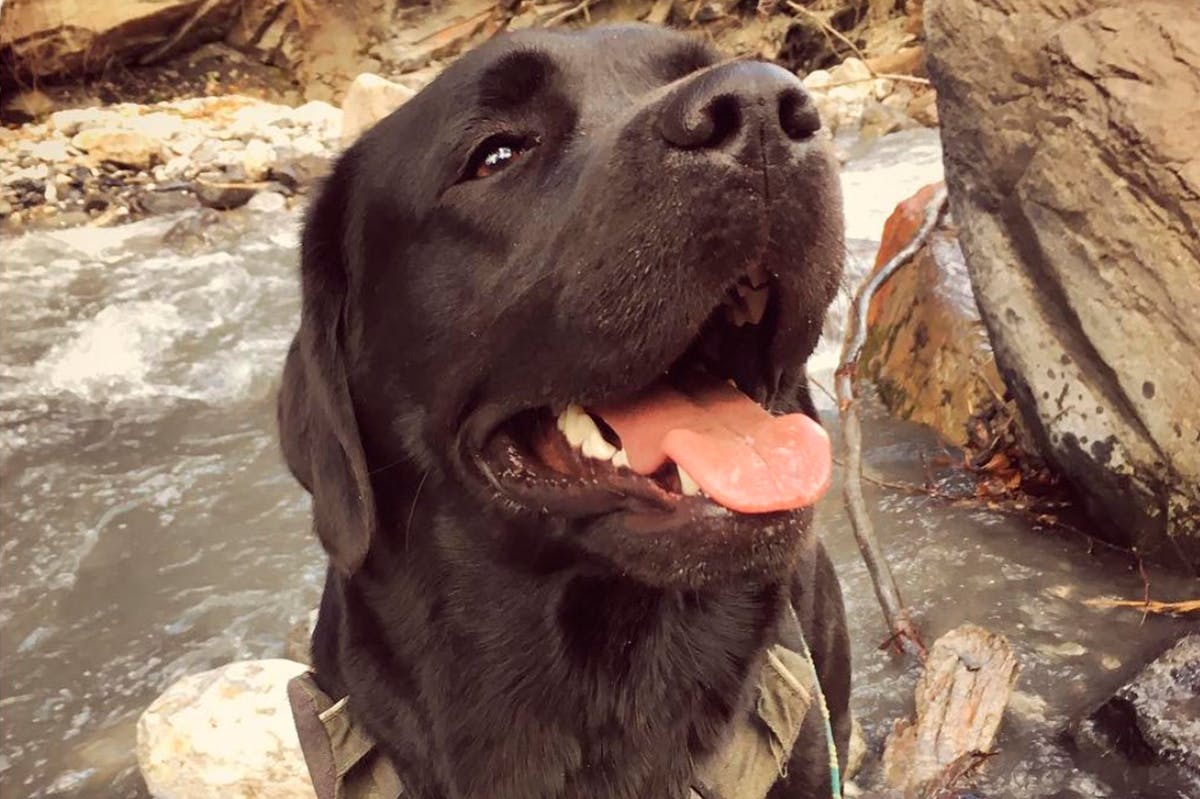 "Well, I won't deny my life DID flash before my eyes, as I flew in the air and hit the floor at around 30 kmph, narrowly missing several boulders. Maisie then stopped and seemed genuinely concerned for me, looking at me as if to say: "how did that happen?" 
Her mum was more distraught and ever so apologetic. I had a whole gamut of emotions going on; there was some blood, some tears (of clothing!) and lots of debris attached to my arm and face. I stumbled back to the house and got ice on my leg immediately. Maisie's mum called her husband and her neighbour and they formulated a plan that if I was just able to play ball in the garden with Maisie, as the sit was only for 5 days, her equally fit Lycra-clad neighbours would walk her daily until their return.
Being the sort of person I was, and in the most amazing place I was, I would NOT agree to that and said — it's fine, I can do this! The neighbours DID however walk the dog the next morning for me just so I could recoup for 24 hours, but from that point on, Maisie and I had a blast. I drove to some amazing spots and walks with her — the best being a snowy uphill 12km hike to Lake Lac where we both took a dip in the ice-cold glacier water. See, I am fit!
I really was so lucky on that trip; 1 — that I didn't die!, and 2 — the weather was unseasonably amazing, sun and blue skies every day, I couldn't have planned it better."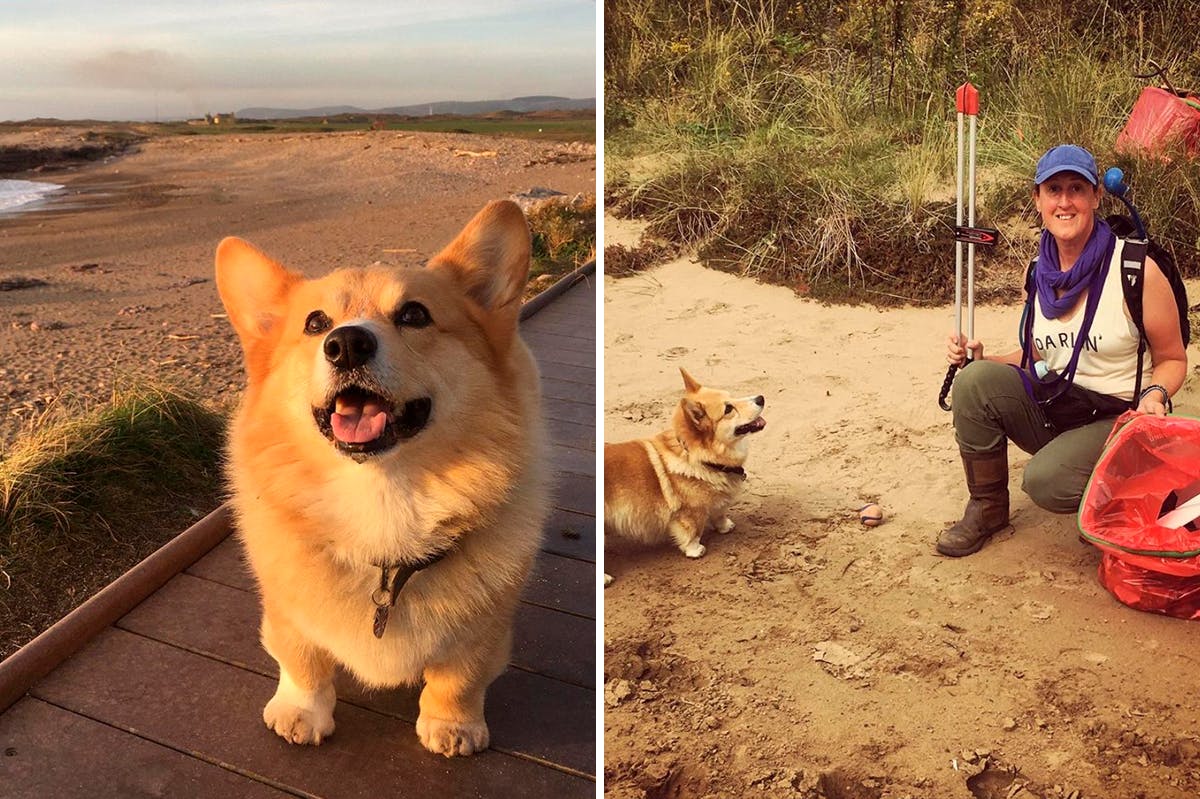 "I've since racked up over 50 sits, and I've received only 5-star reviews from everyone. I am really passionate about what I do and in my mind, if the owners are having a holiday — then I get to give the pets one, too!  
I also love all of the many friends I have made along the way, the furry ones, the fellow sitters I've met in person and over social media channels, and indeed the homeowners that keep in touch with me long after I've left their pets and premises. I'm really very flattered that I've so many repeat owners that now work their holidays around when I am free, not the other way around. The satisfaction level I get from this far exceeds anything I've ever encountered in the corporate world.
So yeah — I'm keeping this Cheshire grin for a while."

Many thanks to Clare for sharing this wonderful story with us — we're so glad to hear how winning a lifetime membership helped her to find a lifestyle she's so passionate about! To find out more about Clare, visit her Instagram page @claresitsdogs, or if you fancy having Clare come to sit for your pets one day, check out her TrustedHousesitters profile here.
If like Clare, you have a story you'd like to share with us, you can reach out to us via email or via our submission form here. We always love to hear from the members of our pet sitting community, so do get in touch!