Like lots of other pet owners, you may have decided that sitters are the alternative to boarding kennels you've been looking for. But as you take your first steps into this world of kind pet care, are you confident you know how to find a dog sitter — someone that suits you, your pet, and helps you travel with true peace of mind? 
Well read on, because here we will reveal the different types of dog sitters, where you can find them, and even the questions you need to ask when deciding who to choose. It's a helpful 'how to find a dog sitter guide' straight from the heart of the pet sitting community.
The different types of dog sitters
Step one of our 'how to find a dog sitter guide' is to get to know the different types of sitters. Yes, there are different types to choose from. And like different dog breeds, knowing what to expect with each one will help you find a dog sitter that is right for you and your pup. 
One of the most common kinds of dog sitters are professionals who board pets in their own home. This service sees your dog stay in the sitter's house, offering them a home away from home. 
While a sitter's home can't compare with your dog's own environment, it can be a less stressful option than boarding kennels. Plus, your dog may enjoy having the constant companionship of the sitter's other canine clients.
As the name suggests, drop-in dog sitters will visit your home and care for your pet for a set period of time. Letting dogs stay in their own home — the one place every pup feels truly safe and happy — this can be a great option for owners who need a helping hand during busy work days or the occasional day trip. Of course, as dogs are relatively dependent and highly sociable animals, this kind of pet care is not recommended as an overnight or long-term option.
An increasingly popular choice for owners that love to travel, in-house pet sitters will come to you and stay with your dog in your home. Providing one-to-one care in your pup's happy place, it's the pet care option loved by dogs, owners, and veterinary experts alike. 
Such a great service may sound expensive but it's not, thanks to sharing communities like TrustedHousesitters. Just visit our how it works page to discover how to find a dog sitter who'll love and care for your pet like you do, without charging. 
The subtype of dog sitters
As our previous point suggests, there are two subtypes of dog sitters. These are: 
1. Paid dog sitters: This common kind of dog sitter offers their services in exchange for money, either as their full-time occupation or a way of earning an extra income. Their prices vary, with many dog sitters charging per pet, walk, hour, or day. 
2. Free dog sitters: More and more dog lovers like you are joining TrustedHousesitters to provide free pet care in exchange for somewhere to stay with a cute canine companion. Put simply, they stay with your pet to make memories, not money.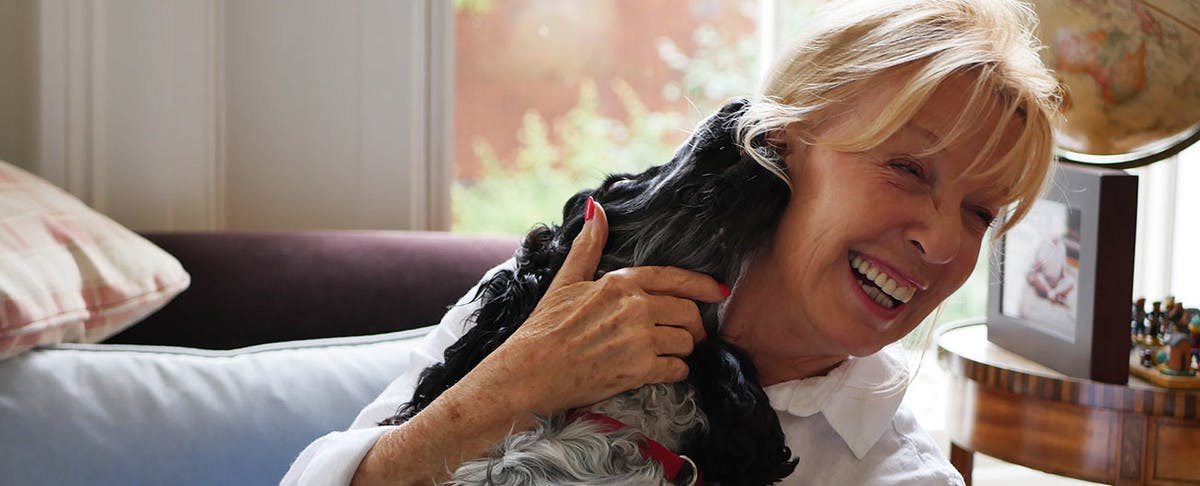 How to find a dog sitter
Now you know what kind of dog sitter you're searching for, you need to know where to find them… 
Looking local  
It's not always necessary (or best) to only choose a local dog sitter. However, if you're looking specifically for a dog sitter near you, you'll likely find people advertising their services in the local newspaper or on notice boards. 
You can find such notice boards in places like dog parks, shops, and gyms, but we really recommend looking at your veterinary surgery too; if a vet has allowed a sitter to advertise there, it often means they endorse their services. 
Word of mouth
Just like looking for a handyman or a hairdresser, a great way to find a good dog sitter is to ask other people. From fellow dog walkers to the veterinary receptionist, don't be shy to get your tongue wagging and ask around — after all, great people often know great people.  
Once you've found a dog sitter you really trust, don't forget to recommend them too. By sharing our experiences, we can all help keep dogs safe and happy while their owners are away. In fact, leaving reviews, references, and feedback is an important part of the online community of TrustedHousesitters too, helping members connect with their perfect sitter safely and securely.  
Dog sitting websites  
From delicious food to your forever home, what can't you find on the internet today? But googling for pet care can feel strange if you don't know where to start. That's why we've put together a great guide to finding the best dog sitting website for you. With this 'how to find a dog sitter guide' to hand too, you'll be able to search with even more confidence. 
Of course, if you're looking to connect with pet-loving sitters that won't charge to care for your canine, then there's only one place to look… 
How to find a dog sitter with TrustedHousesitters
Created to help pets stay safe and happy at home, the caring community of TrustedHousesitters has thousands of sitters who'd love to look after a dog like yours. All you need is an annual membership, then you can use the app or website to connect with the community and arrange unlimited sits throughout the year.
Along with membership benefits like a 24/7 Vet Advice Line and $1 million cover for each and every sit, you'll also get round-the-clock support from Membership Services. This dedicated team is here to make sure you know how to find a dog sitter and travel with true peace of mind, each and every time. 
Questions to ask a potential dog sitter
It's important to ask potential sitters as many questions as you need to feel completely comfortable. While we're sure you have plenty of your own, here are the top five questions you must be sure to always ask: 
1. Have you got any relevant dog sitting experience? 
Whether it's handling large hounds or dealing with dog separation anxiety, it's important to make sure you choose a dog sitter that's really ready for the responsibility of your dog. 
2. Is there anything you're not comfortable doing? 
From keeping you updated while you're away to administering your elderly dog's medication, it's important to be clear and open about your expectations from the start. 
3. How much time will you dedicate to my dog? 
While a low-maintenance Labrador may be left to nap in the afternoon, it's fine to ask a sitter to dedicate more time to your dog. Just be clear from the start about your dog's requirements — your pup's perfect sitter will be happy to provide one-to-one attention. 
4. Will you be looking after more than one dog? 
Some professional dog walkers and sitters may cater for more than one canine client at a time, and so this question is particularly important if you know your dog dislikes the company of other pets.
5. How much do you charge?
While this may be the number one question for those looking for a cheap dog sitter to provide regular or long term pet care, it's only number five on our list. Why? Because our sitter members never charge. 
Need more help or advice?
Has this helpful guide on how to find a dog sitter answered all your questions or left you wanting to know more? If you need additional information about dog sitters or would like guidance getting started with TrustedHousesitters, please just get in touch.