Creating a thorough owner listing with plenty of pictures and information is key to securing the perfect sitter for your home and pet. Of course, it can sometimes be hard to get started, especially when you have never put together anything similar to showcase your home and pets.
That's why we've put together this handy visual guide for your reference, so that when you're creating your owner listing, you know what it takes to get your listing to stand out to potential sitters. 
Think about your listing title...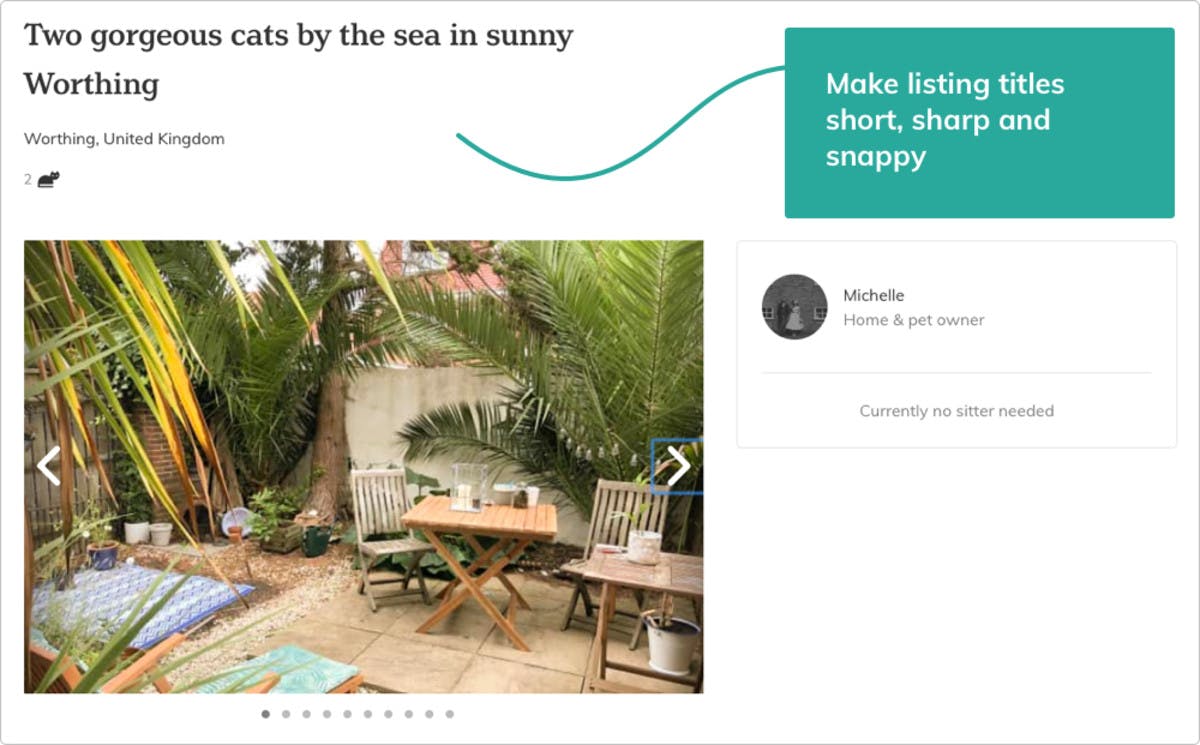 Use attention grabbing headlines to draw in potential sitters
Think about the type of language that would draw you in if you were a sitter. Consider the following questions: 
What about your home and pets could appeal to sitters?
What stands out about your house or location — do you have incredible countryside views, a swimming pool, or perhaps you're in a central city location? 
What type of pet will they be looking after, and how many?
Here are a few examples of attention-grabbing titles:
'Cute dog in California's "Spanish Village by the Sea"'
'Modern house in very rural setting with well behaved dogs'
'Garden oasis and furry friends'
Trusted tip: Stuck for inspiration? Keep it short and to the point by simply stating how many and what pets they'll be caring for, and where. For example, 'Pet sitter needed for 10 nights for three cats in New York City'. 
Include great photos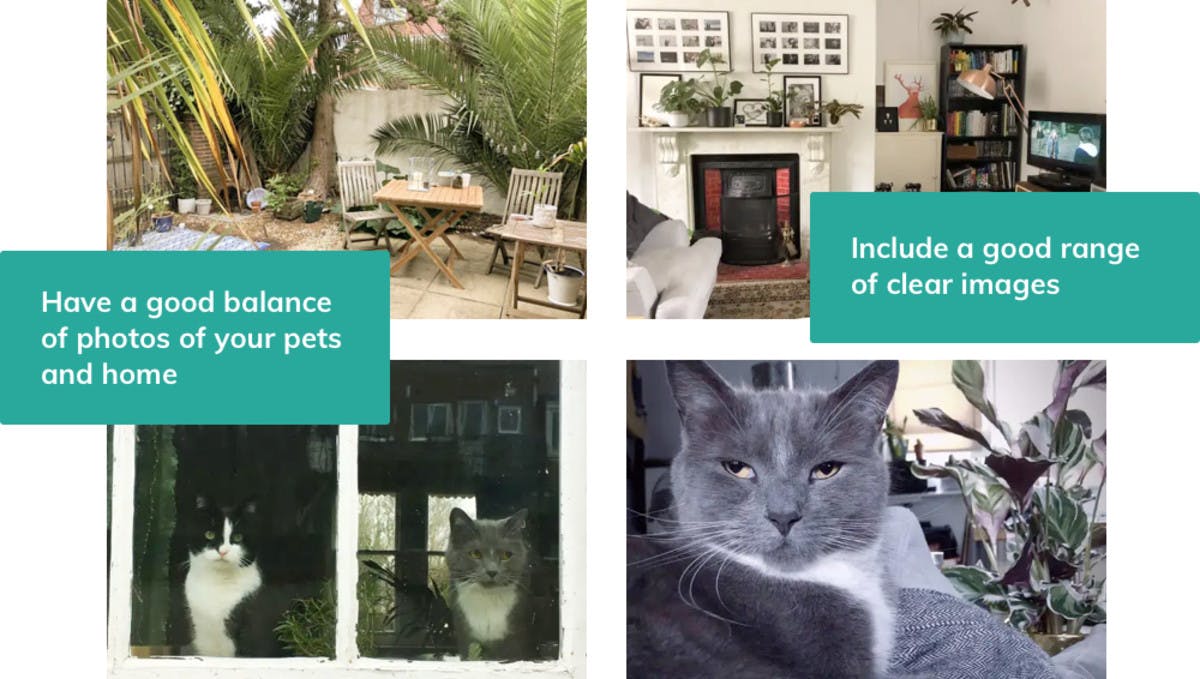 The more photos, the better. Sitters like to be able to see exactly where they'll be staying, and who they'll be caring for. So, show off your pets and home with clear photos that will entice the right type of potential sitter — most phone cameras take good enough photos, so no need to worry if you don't have fancy camera equipment! If you're not too handy with a camera, you could ask a friend or family member to help you too.
As standard, try to make sure any photo you're uploading is clear and good quality. For more information on what type of photos to include, check out our blog on how to choose the perfect photos for your owner listing. 
Time for the introductions…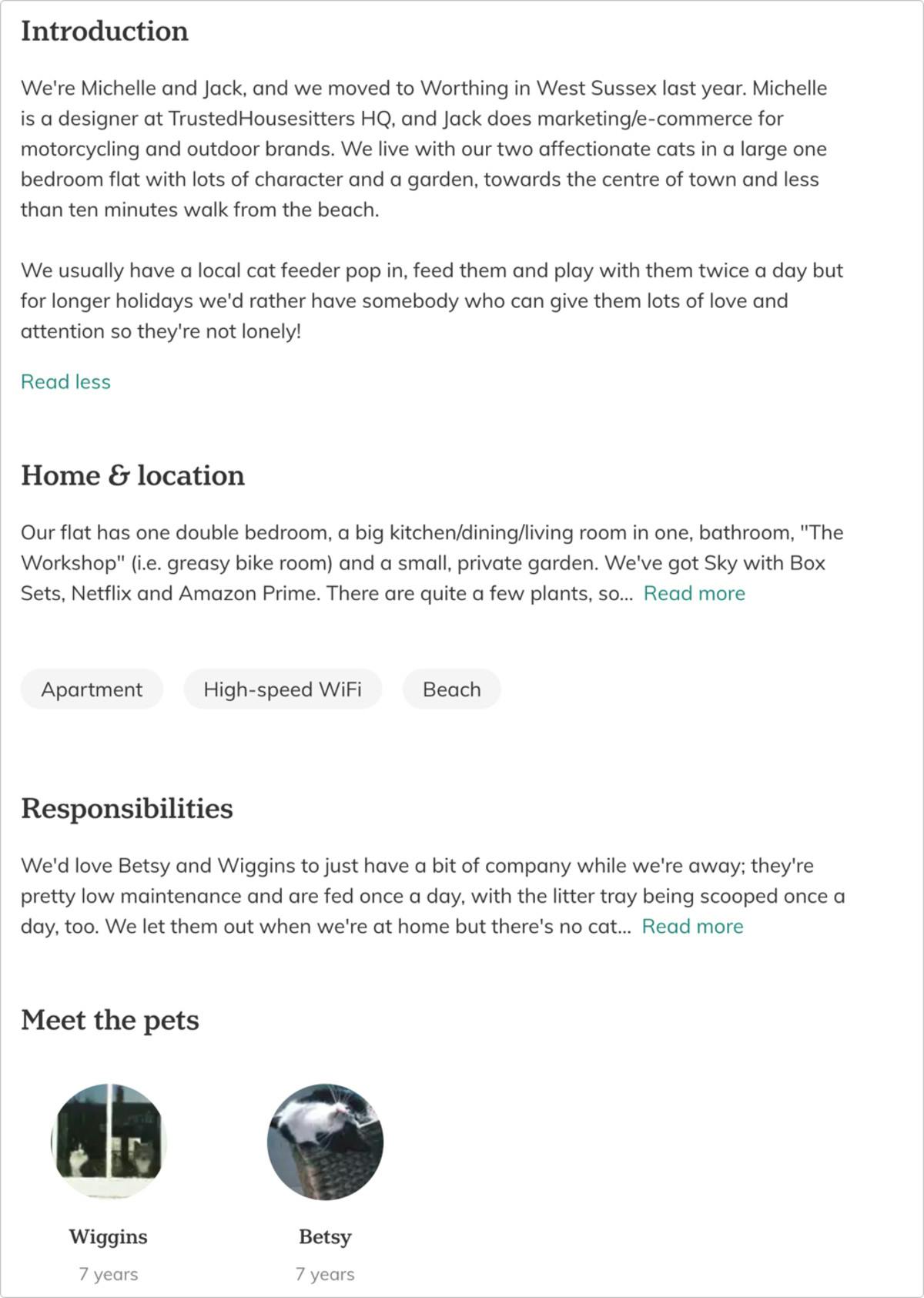 There are three headings within the listing, each of which invite you to share more about yourself, your home and your pet. This can be toughest part — but remember, you're an expert on all of these things! You needn't worry if you're not a natural born writer, as long as you're thorough and factual in your description, you'll be on the right track to a great listing.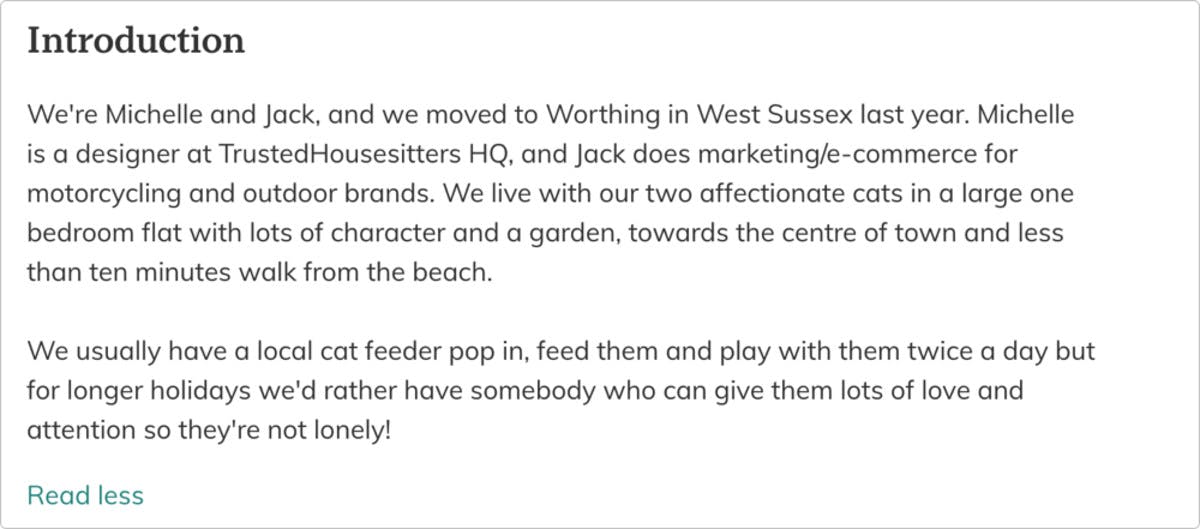 Your introduction
Here, take the opportunity to introduce yourselves and your pets and perhaps explain why you're looking for a house sitter. Things to consider when writing your introduction are:
When did you move to the area/your house?
A brief overview of your house and location — for example, are you in a city apartment, or a three bedroom family home with sea views? 
A little bit about you. Things you might want to include could be what you do for a living, how often and why you travel and your hobbies.
Why are looking for a sitter?
Remember, telling potential sitters a little more about yourself means you're more likely draw in like-minded people who enjoy the same things you do!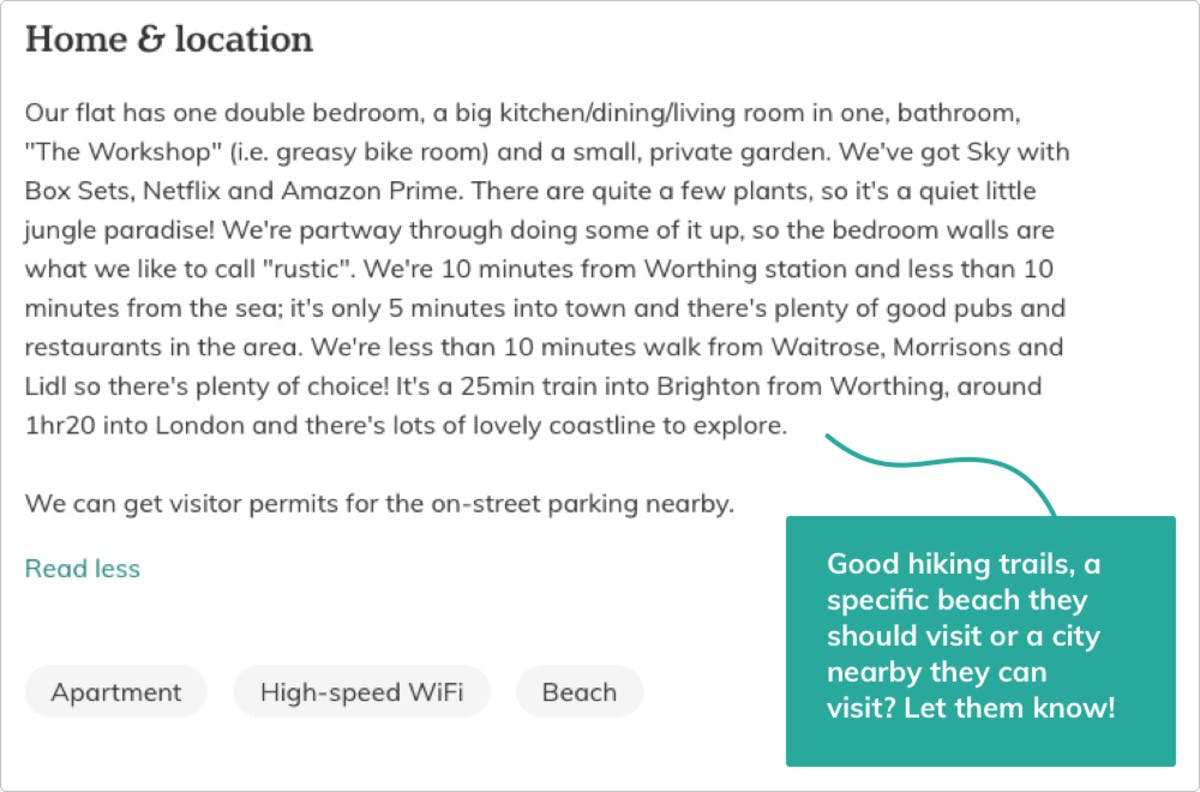 Home and location
You can use this section to delve into detail about where your sitters will be staying. The more information on your home and the surrounding area you can give, the better — try to think about what you would want to know about a place you were going to be staying, and include it. Things you may want to include could be:
The type of property and how big it is
Where exactly the sitter will be staying. For example, is there a spare room, or limitations on where they will have access to?)
Any stand-out features about your home — do you have a large garden, outstanding views or maybe even a swimming pool?
It's also useful for sitters to know about local attractions, transport links and amenities;
How far is your home from the airport or transport links?
Are there shops within walking distance?
Do they need a car?
Where is the nearest supermarket located?
Will they have internet and television access (Netflix, Sky etc.) while they are there?
Any tourist attractions or recommendations for what they might like to do while they're there?
Are there good hikes nearby, a specific beach they should visit or a town they can visit? Let them know!
Make sure you also fill out additional information on your home and location by selecting the tags that apply in the 'Home Details' section in your dashboard when you are creating your listing. This will make it easier for sitters to quickly identify what type of sit they can expect.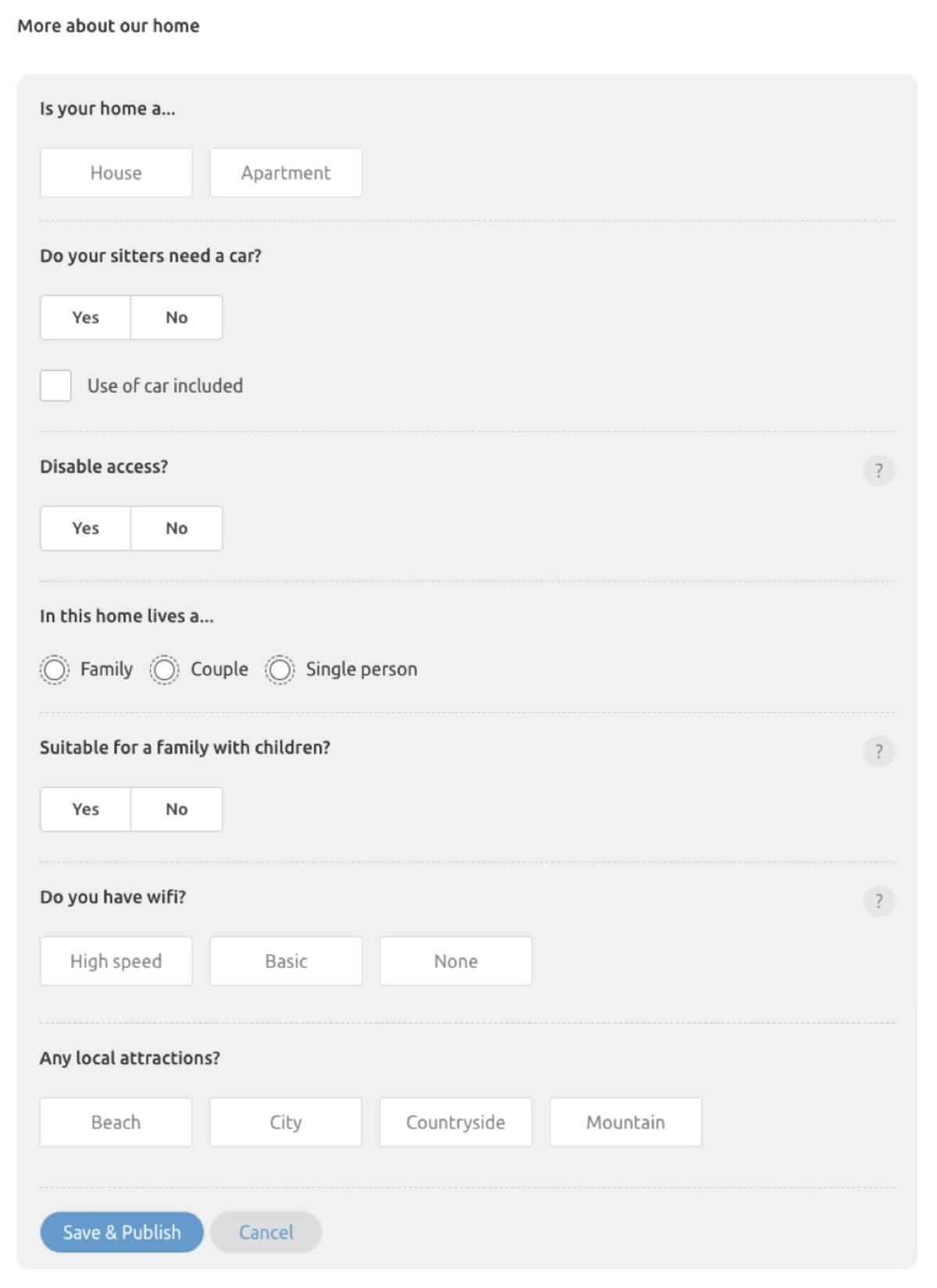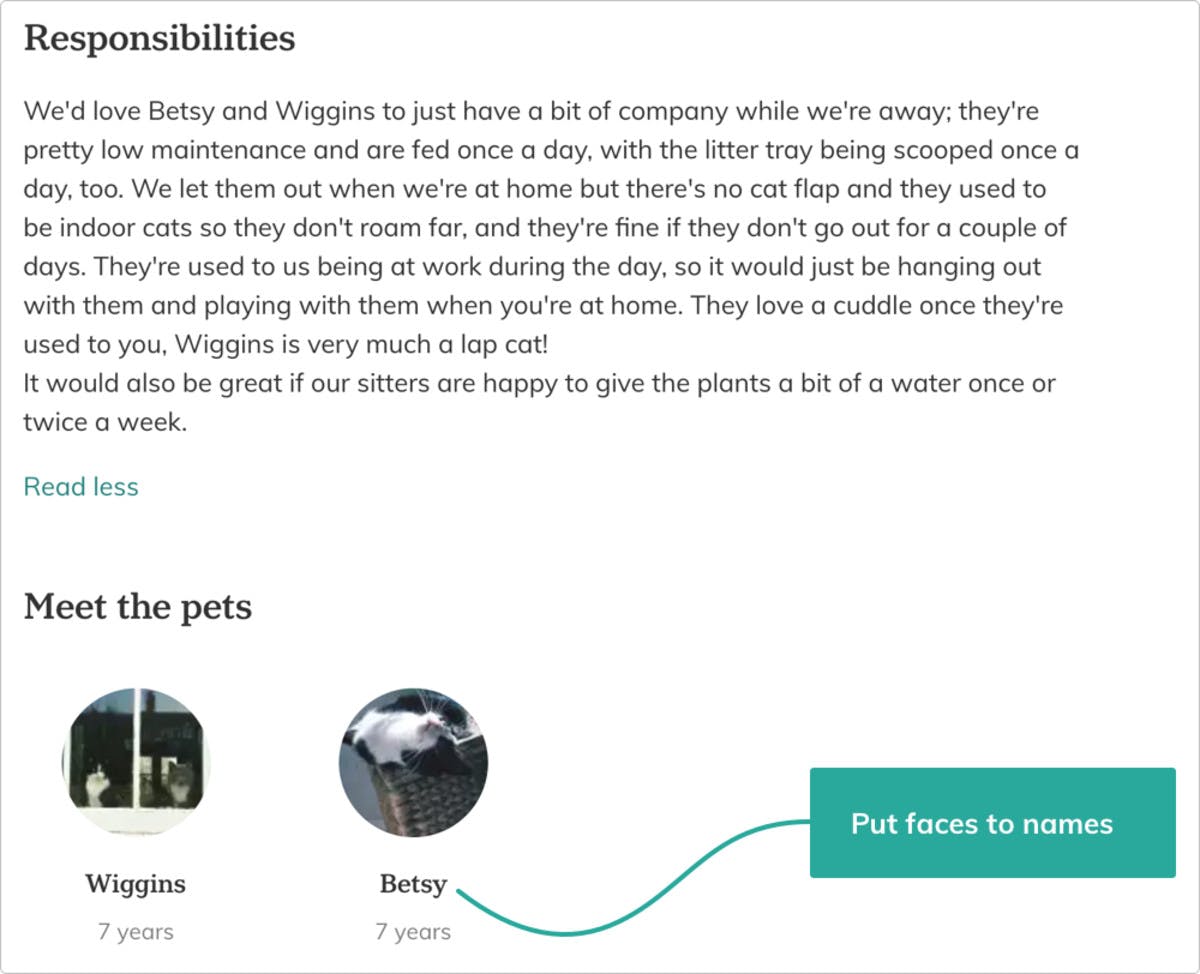 Your sitter's responsibilities
In this section, you'll need to tell sitters about the pets they will be caring for and exactly what you are expecting from them while they are there. Outlining your pet care requirements and expectations thoroughly at this point is beneficial in the long run, as sitters that apply will know exactly what you expect of them while on the house sit. This is also a great opportunity for you to write about your pet and their personality! As fellow animal-lovers, sitters love reading about the pets they could be meeting. Information you could put in this section includes:
How many pets you have, their ages and their species?
Are they rescues, seniors or still young?
Do they have special needs? Do your pets take any medication or do they require any special care?
Are you looking for sitters with any particular pet care skills? 
The personality of your pets — are there any behavioural traits that your sitter should be aware of?
What's your pet's routine — how many times a day do they need to be walked or fed and how much time do you need to spend day-to-day with them?
Can your pets be left alone? 
You can also include information on any additional household responsibilities you might require:
Watering plants or garden
Picking up the mail
Taking the bins out and any recycling instructions
Lastly, make sure to add photos of each of your pets and their names, so sitters can put faces to names! You can do this when you're editing your listing on the dashboard. In the 'Add photos of your pets' section.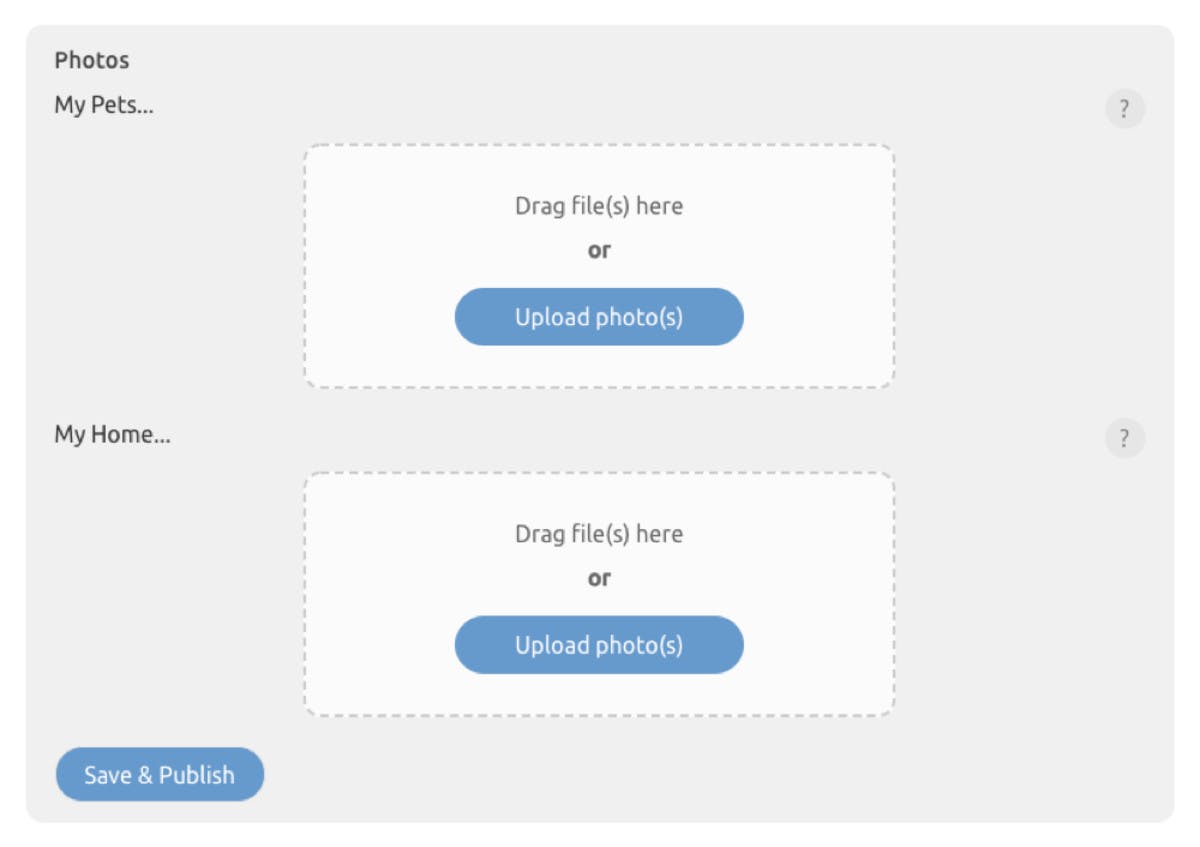 Now all that's left to do is add dates!
Once you've completed your listing, you can add the dates you'll be away for, and click 'Save & Publish'. 
Got any more questions about creating your owner listing?
Creating your owner listing can be a completely new experience for some, and that's why we're on hand to help. You can also get in touch with our Membership Services team a call, who will be more than happy to help you create the perfect owner listing.